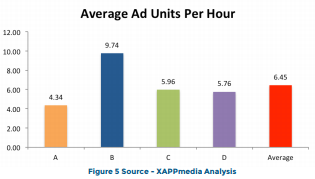 A new report from XAPPmedia looks at streaming ad loads during and after the 2014 holiday season. The key metrics it examines are:
Average ad load per hour
Average number of ad units per hour
Percent of ads that were 30 second spots
Number of identified advertisers per month
The methodology of this work is not disclosed, but four Internet radio services are broken out anonymously in the results. "The intent of this report was not to reveal the ad serving strategies of any particular service, speculate on revenue trends, or assess the composition of their advertising base," according to the summary findings. "Instead, the focus is on using discrete data from services to depict broader industry trends and norms."
The main trend trend is much lower ad loads for streaming than for broadcast, amounting to slightly over 2.5 minutes per hour on average, spread across an average of six to seven ad units. There is a bias toward 30-second spots.
The number of advertisers in the tested services ranges widely. Over 100 advertisers are identified at the end of the report, broken out as national and local advertisers.
Although not listed as a Key Metric, an interesting section about ad sequencing observes "Time to First Ad," where there was a wide spread from zero (pre-roll) to 37 minutes. The average time clusters at around 11 minutes.
In addition to charting industry trends generally, part of the report's purpose is to measure the advertising flow around the holiday season, in the November-January period.
The free report can be downloaded here.