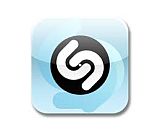 The world's three biggest music labels — Warner Music Group (WMG), Universal Music Group (UMG), and Sony Music Entertainment — each invested $3-million in Shazam, a leading song-recognition app. The Wall Street Journal reported the investments, citing unnamed sources.
In the context of Shazam's funding history, the combined $12-million is meaningful, but not blockbuster. The company has raised at least $92-million in the last three years. Additionally, in 2009, Shazam received an undisclosed amount from Kleiner Perkins Caufield and Byers.
In February Shazam received a $20-million investment from undisclosed sources. At that time the company was reportedly valued at $500-million. Whether the valuation is changed by the label investments was not disclosed.
Shazam has an existing business development partnership with Warner Music Group. Announced in February, the alliance leverages Shazam's 420-million users to promote Warner artists. At the same time, Shazam is creating a branded music label designed to launch most-searched unsigned artists that surface in the Shazam app.
Shazam and SoundHound, the two market-leading song-ID apps, play an increasingly important role in music discovery. Because anyone can use them free of charge, each attracts a vast user base of people who can attach to songs and bands the moment they first hear them. From the music-recognition app, users can transfer their discoveries to major music services for later listening, or purchase the music in iTunes.