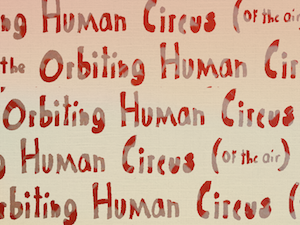 WNYC Studios is partnering with Night Vale Presents in a deal that will revisit The Orbiting Human Circus (of the Air). The podcast — which is part radio drama, part variety show, and all cult classic — released a single season in October 2016. Under this deal, the original show will get a new release and a second season.
The duo will re-release a deluxe edition of that season with one episode a day beginning May 14. The deluxe episodes will feature commentary from Julian Koster, the writer/creator and member of indie band Neutral Milk Hotel, and other members of the creative team. The re-release also includes a new director's cut of the season finale.
The story is about a janitor's bizarre adventures at the top of the Eiffel Tower. The voice cast includes John Cameron Mitchell, Tim Robbins, Mandy Patinkin, Charlie Day, Mary Elizabeth Ellis, Susannah Flood, and Cecil Baldwin.
WNYC Studios and Night Vale Presents will co-produce a second season of The Orbiting Human Circus. Episodes are expected to debut later this year.
"WNYC Studios is thrilled to partner with the creative team at Night Vale and to join forces to share the stories of Julian and the Circus," New York Public Radio COO John Chao said. "Night Vale Presents are deeply innovative storytellers. As long-time admirers, we share their experimental spirit and commitment to championing new voices. We're proud and excited to bring The Orbiting Human Circus (of the Air) to a broader audience and to collaborate on the future of this unique show."
"We're excited to share this special reissue of The Orbiting Human Circus (of the Air) with our existing listeners and new audiences alike," said Christy Gressman, producer for the podcast and a partner at Night Vale Presents. "We've long seen the show as something all listeners can return to again and again. Working with WNYC Studios on this release feels like a bold way to explore the craft of podcasting as one might a film. This may be the first time a podcast has been reissued — and reexamined by its creators — in this way. At Night Vale Presents, we love pushing the boundaries of what podcasting can be, and we can't wait to continue creating alongside WNYC Studios in the future."