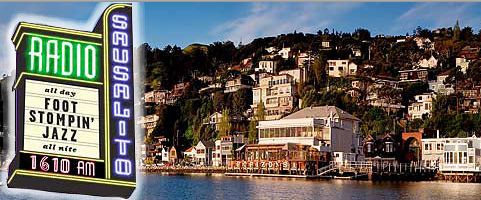 From hyperlocal to global — that is a core potential of the Internet. For Radio Sausalito, a small AM station whose signal is confined mainly to southern Marin County, webcasting is less about reaching a worldwide audience than making the signal available to local listeners wherever their daily routines take them. But for anyone who tunes in, the programming is unique and deftly curated.
Listening is accomplished via a pop-out in-browser player, or with MP3 and iTunes streams. We are hearing jazz this morning, heavy on Sinatra and other American Songbook selections, with some straight-ahead ensemble work tastefully mixed in. The program lineup is heavily slanted in the jazzy direction across several eras. Stay tuned long enough and you'll also hear tidal reports and local music event news. There is something charming about listening to a jazz station that also discusses local migrating bird patterns.
Radio Sausalito archives and podcasts three of its non-music programs, one of which ("The Field Trip") is an arts and entertainment review program.
The station was started by Jonathan Westerling 12 years ago in his home. The station operates with a volunteer staff, accepts CD submissions, and solicits donations in the tradition of a pureplay.