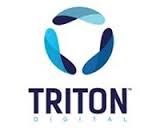 Webcast listening in April was mostly flat compared to the previous month, taking Triton Digital's top 20 streamers as a whole — this according to Triton's Webcast Metrics monthly Ranker, released this morning. Year-over-year listening to streams gained 11%.
As always in RAIN News tracking, we use Average Active Sessions (AAS) as the key metric, through the lens of 6:00am – 12:00am listening, Monday through Sunday.
Perennial leader Pandora lost a slim two percent compared to the March report, continuing its residence above the two-million AAS line, where it has resided (with temporary slight dips below) since it broke that ceiling in February, 2015.
While Pandora has plateaued, Spotify has experienced a consistent charge of upward listening growth that can fairly be called meteoric. Spotify's run since joining the Triton Ranker in the January 2015 report has seen a blazing 160% listening growth in Average Active Sessions. During that period Pandora has served 8% more sessions on average. Spotify's upward trajectory from Jan2015 to Apr2017 resembles Pandora's ascendancy from Jul2011 to Feb2013, when it gained over a million AAS, then again from Jul2013 to Feb2015, when it picked up another 500,000 average sessions to break two-million.
Spotify entered the Ranker with average sessions that amounted to 35.6% of Pandora's sessions. In today's report, Spotify's session count is 85.4% of Pandora's.
In this contest of trendlines, it's worth remembering that stream listening is not a zero-sum situation. While Spotify is clearly building its listening activity, Pandora is maintaining its listening levels, notwithstanding small dips and spikes. The larger story is that stream listening served by those two market leaders (the "listening pie") is growing. From Jan2015 to Apr2017, the combined average active sessions served by Pandora and Spotify grew 48%.
Here are the trendlines for Ranker leaders dating back to 2009:
---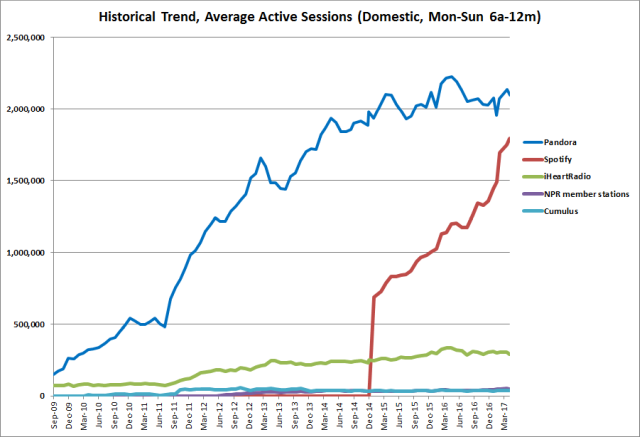 ---
Digging into the April year-over-year for individual components of Triton's Ranker, we see AccuRadio as the clear leader in percentage terms, as it has been in recent months, with a dramatic 65% more average active sessions than April 2016. (We are overlooking Beasley's 162% gain resulting from the acquisition of Greater Media; that combined entity began reporting in November of last year.) Spotify enjoyed a 50% YoY upward movement, while NPR lifted 24%.
Here is the graphic year-over-year comparison of the entire Top 20 group:
---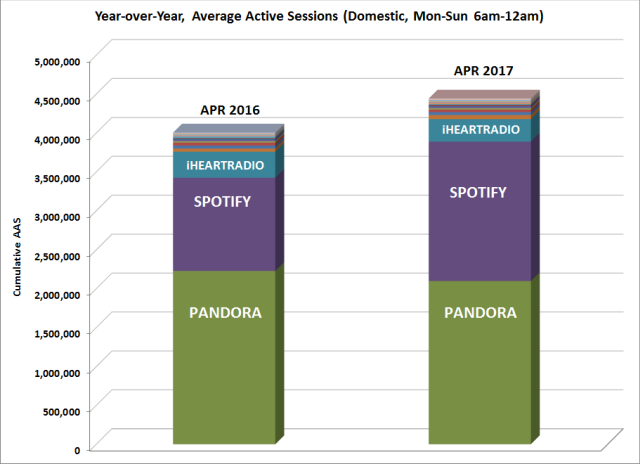 ---