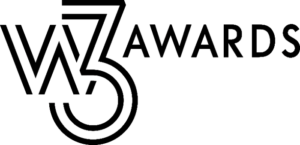 The w3 Awards are an annual recognition program for excellence in website presentation, marketing, video, mobile site, mobile apps, social presences … and this year, podcasts.
The new category gives podcasters of many types an avenue for potential recognition. "Many types" might be an understatement, as the w# organizers have created a sub-category taxonomy that lists 49 topical categories in which creators can submit entries. (An entry fee of $175 pertains.)
The whole thing is operated and judged by the Academy of Interactive and Visual Arts, which is populated by a wide selection of media, interactive, advertising, and marketing firms. Spotify is in it, as are Microsoft, MTV Networks, Wired, and many others.
Digital audio marketing is not explicitly represented in these awards, but in the Marketing group of awards audio advertising could fit into many of the subs.
Getting back to the Podcasts category, we are interested to observe that Comedy does  not exist as a submission type, but Interview/Talk is. This is notable because the industry-governing Apple podcast taxonomy, which defines the much-followed Apple podcast charts, puts many of the successful interview shows in the Comedy category, even though they are not comedic — The Joe Rogan Experience, WTF with Marc Maron, and others. They are some of the most popular shows in the world, clearly miscategorized in our opinion. (Podcast creators self-select the Apple category; our complaint is the lack of an Interview or Chatcast category.)
Anyway. Here is the list of w3 categories (scroll down for Podcasts).