Adding to the heap of COVID-19 statistics charting the undulations of podcast listening in March/April, Voxnest today unleashes an update based on its internal tracking. The headling numbers show double-digit growth: Overall podcast listens have increased 42%, and European listening is up 53%, according to Voxnest's audience tracking.
Contrarily, honing into the U.S. shows a 20% decline. Voxnest attributes the U.S. drop to disruption of commuting, which is primetime for podcasts. "In a country, like the US, where podcast listening is strongly correlated to behaviors like commuting, the disruption of this routine is playing a large role in the decrease." Voxnest goes on to hypothesize that U.S. listening will recover as people build new at-home routines. (The company statement is careful not to "predict.")
Voxnest's global audience affords interesting per-country metrics. Today's report drills  into Italy and Spain, probably because of the crisis COVID-19 outbreaks in those countries. Italy's top podcast categories in this report are true Crime, fiction, Self-improvement, Kinds & Family, and Improv.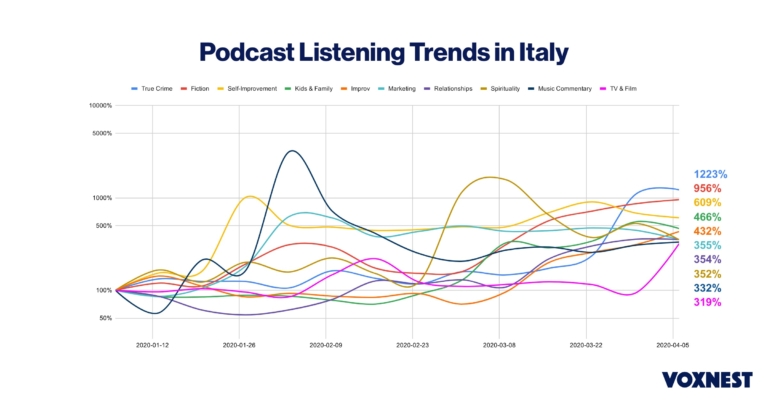 In Spain, the preferences show in Science, Health & Fitness, Politics, Society & Culture, and Comedy.
The U.S. listening metrics are not all pointing downward. Categories showing lift include Design, Food, and Music Interviews.
Voxnest summarizes: "While we're certainly not out of the woods yet, we look forward to continuing to track these behaviors both throughout the remainder of the quarantine, and afterwards. It's possible that the newfound podcast listening in Europe during quarantine could ignite a more loyal and deeply engaged group of European listeners."