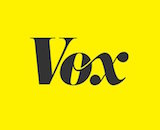 Vox Media is making more moves to shore up its leadership as the company moves into new directions for journalism and reporting. The media operation is working with Midroll Media on a daily news podcast, a large undertaking, slated to begin in 2018. The yet-unnamed daily show will have a dedicated six-person team, and Vox said has additional plans for launching more podcast series as well as producing its own shows for TV.
In light of these new multimedia plans, Vox has announced that Lauren Williams will be its new editor-in-chief. She succeeds Ezra Klein, who will move to a position of editor-at-large in order to focus on overall strategy, new initiatives such as the daily podcast, and his own reporting. Williams has been with Vox for years and Klein dubbed her "the exact right person to lead us in a new phase of growth — to make sure we're built to handle it, that we're being conscious of the strains it places on us, and that our work is always deep, decent, and ambitious." She previously worked as Vox's executive editor.
Along with Williams' promotion, Allison Rockey has been named as Vox's new executive editor and director of editorial strategy. Rockey is another early Vox employee, and has made contibutions to the company's editorial strategy and growth, most recently as its director of programming.