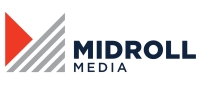 At today's IAB Podcast Upfront, Midroll Media in announcing new developments in partnerships and in its programming lineup. The podcasting company is now representing ad sales for the NFL's current League podcasts. It will also help the sports organization to develop new shows, and NFL teams will have the option to work with Midroll on their club shows.
The other partnership is with Vox Media. Midroll and the Stitcher development team will help Vox to launch its upcoming daily news podcast. This project is expected to debut in early 2018. Midroll will be the exclusive advertising partner for the unnamed podcast and will offer creative consultation. Vox's morning news product is generally regarded to be an important entry in the successful morning news category of podcasting, currently dominated by NPR's Up First and The Daily from the New York Times.
Midroll is also bringing several shows into its fall lineup. True-crime show My Favorite Murder is joining Midroll from Feral Audio. Heaven's Gate from Stitcher examines the cult that committed the largest mass suicide in the country. Raised by Television is a new show on the Earwolf network about TV shows from the 1980s and 90s. The duo behind Stuff Mom Never Told You have a new project called Unladylike that covers crowdsourced topics centered on women. The final addition is Earwolf's Dr. Gameshow, where comedians attempt to play original and odd games on the air.
"With our ability to serve every part of the podcast community — from creators to advertisers to listeners — Midroll is positioned to help bring the world's best shows to light across a wide spectrum of genres," Midroll CEO Erik Diehn said. "We believe all listeners deserve excellent programming, and we're committed to increasing the diversity of shows and audiences, another important way we help advertisers reach engaged podcast fans."