If you're lucky enough to live in one if the dozens of U.S. cities (or handful of other countries) in which the Uber car service is available, you are one lucky RAIN reader, because Uber is an amazingly great improvement on the taxicab experience.
In case you're not familiar with Uber, here's a quick primer on how it works: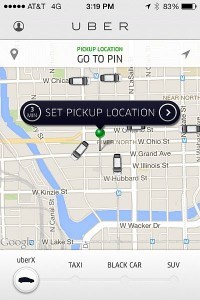 First, you download the Uber app to your smartphone and enter your credit card card information. (You can enter both a business card and a personal card, for different types of trips.)
When you need a cab, rather than having to call your local cab company (and some companies want that call hours in advance!) or stand on a cold, wet street waving your arm, you simply launch the app.
In most cities (depending on local laws, etc.), you have your choice of up to four different categories of vehicles: Taxicabs, black cars (i.e., limos), SUVs, or lower-price "UberX" private vehicles.
The app shows you a map of your current vicinity, all the Uber vehicles within your selected category that are in your vicinity (and the direction and speed each is moving) and gives you a pickup ETA. In my experience, in various cities, the ETA is usually just 3 to 7 minutes.
You click the exact location where you want the car to pick you up, click "Request a ride," and within moments a selected car is on its way to you.
You're shown the name of and a picture of the driver, a description of his vehicle, and his star rating (based on ratings from past customers).
Within minutes, a clean, modern vehicle with a articulate, professional, and happy-with-his-job driver arrives and whisks you to your destination.
You thank the driver, exit the vehicle, and say goodbye. And that's it!
A couple of minutes later, you get an e-mailed receipt showing how much your card was charged (including a standardized tip, which makes the experience significantly more stress-free) and with a map of the route you traveled.
Finally, you have the option of rating the driver (and, behind the scenes, the driver has the option of rating you as a customer too).
Pleasingly, in Chicago, using the low-price UberX service, I often get vehicles like a Mercedes-Benz E-series or a Lexus hybrid … and I'm paying maybe 20-30% less than a standard mediocre Chicago taxi!
THE UBERIZATION OF RADIO
So, what does this have to do with the radio industry?
Well, I think the lesson is that the Uber experience is better than the old-school taxicab experience by, like, a factor of ten: It's a LOT better, and it's better in many different ways — convenience, transparency, vehicle quality, driver attitude, billing and payment system, price, and more.
Similarly, one could argue that satellite radio and Internet radio (well, a good brand, anyway) similarly improve on the traditional broadcast radio experience significantly and in many different ways — more genres, deeper playlists, less needless chatter, richer "Now playing" information, personalization (in the case of Internet radio), and, importantly, much lower spot loads.
So what do you do if you're, metaphorically, Yellow Cab in an Uber market? (Or, to a different metaphor, what do you do if you're US Airways and JetBlue starts competing on your routes, or a crappy Mexican lunch food chain and Chipotle enters your market?)
Of course, if you're an employee of Yellow Cab (or US Airways or the crappy Mexican chain), I think the answer is easy: Try to get hired as an Uber driver (or a JetBlue or Chipotle employee).
But what if you're the owner — or in upper management? Can Yellow Cab In Chicago completely rebuild its systems? Can it offer a great app, add GPS vehicle locations, weed out bad drivers, improve its fleet (e.g., add some E-series Mercedeses), change its billing and payment structure, and revamp its image in the minds of consumers? Or would incremental moves like that be too little, too late to meaningfully compete?
If you own radio stations, can you launch a new product that's as good as — or ideally even better than — services like SiriusXM and Pandora? (Because minor improvements, like cutting your spot load by 10% or reducing the speed of your power rotation slightly, may not have a meaningful impact.)
Have you got the drive to do that?