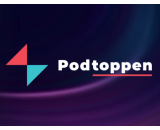 Podlists proliferate the podsphere. The latest? Podtoppen, which ranks the top 100 Norwegian podcasts. Here is the list (inconveniently broken into five groupings of 20 each).
Podtoppen, which self-describes as "Norway's official top list and measurement of podcasts," is compiled by an entity which calls itself the Steering Group, composed of five Norwegian media companies –NRK, Schibsted, the P4 group, Bauer Media and Moderne Media. They have joined to start and finance the initiative.
Other companies can buy into the consortium, under the following guidelines:
The podcast should be perceived mainly to be Norwegian
The content shall not violate Norwegian law
Participation in the survey is paid according to the current price within the due date
The podcast is able to reliably deliver relevant server logs
A qualifying podcast must be served on a tech platform which can deliver server logs to the measurement group. International participating platforms familiar to RAIN readers are Acast, Omny Studio, and Podspace. Other participants are NRK, Bauer Media, and P4 Group.
NRK is Norway's public media company. Ten of the top 20 podcasts in the inaugural Podtoppen belong to NRK.