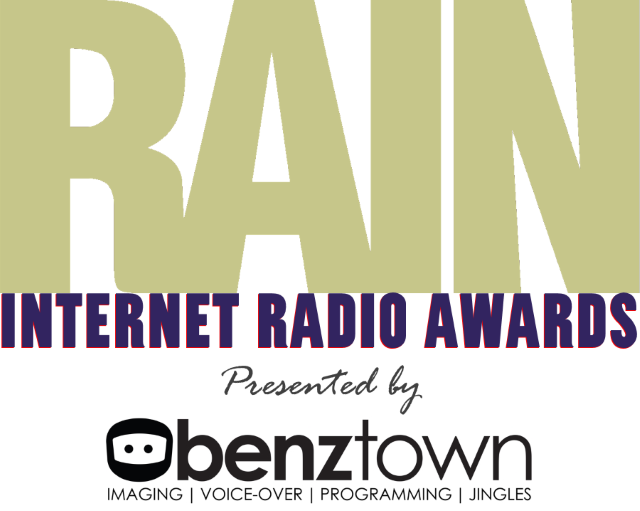 ---
RAIN is pleased to announce the 8th Annual RAIN Internet Radio Awards, the most prestigious celebration of excellence in the online audio industry. Open submissions from station and service owners are accepted as part of a process which culminates in the Awards Ceremony at RAIN Summit Austin on September 5 — always a highlight of RAIN's fall conference in collaboration with the NAB/RAB Radio Show.
When is the right time to submit your station, service, or podcast for consideration in the 8th Annual RAIN Internet Radio Awards? Now! Scroll down to see which category is best for your brand.
CLICK HERE to submit directly to the Awards.
CLICK HERE to see last year's winners.
There is no charge. The RAIN Awards accept self-nominations, inviting the owners and operators of streaming audio brands, and podcasters, to enter their streams, sites, services, and platforms for consideration.  Winners are determined by a panel of unaffiliated expert judges, who review and grade submitted services. Finalists and winners will be announced at RAIN Summit Austin on September 5.
Don't wait! The submission deadline is Monday, August 7.
Submissions are accepted in these categories:
Best Single-Stream Webcaster
This category celebrates the best online only ("pureplay") webcaster with a single stream of radio content. RAIN continues to honor the rich musical diversity that independent webcasters add to the listening ecosystem.
Best Streaming Broadcast Station
For the single broadcast station that has executed the best streaming strategy. Judges may consider ways that the station has extended and enhanced its brand through the use of online streaming. Only broadcast stations that stream online are eligible.
Best Podcast
For the best spoken word on-demand audio series. The program must originate online, as opposed to a show created for  broadcast radio and archived online — e.g. Serial is eligible, but This American Life is not. Judges may consider originality, production quality, entertainment value, information velue, and presentation.
Best Overall Digital Strategy
For the broadcast station, broadcast group, or online-only webcaster that has implemented the finest overall digital strategy. Judges may consider mobile, streaming, websites, downloads, video and/or other features. "Online only" services, broadcasters, and streaming broadcast stations are eligible.
Best Overall Online Radio Service
For the station/webcaster that provides the best overall online listener experience. Judges may consider programming, technology, popularity of the service, attractiveness of the app (web/mobile), ease of use, operational sustainability, integration of advertising assets (if applicable), and other criteria. Nominated services may be single-channel and multichannel "online only" operations or streaming broadcast stations.
CLICK HERE for direct submitting of your site or service. It's free.
---