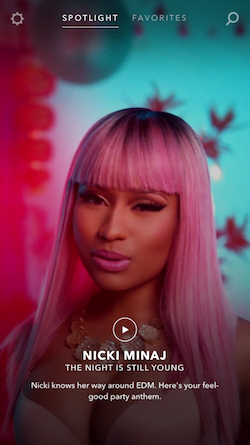 Vevo has been on somewhat uncertain ground with YouTube's plans to transform its video platform into a formal streaming service. But the video service today released a new version of its own iOS app.
The app now has a dark color scheme and a lush design. The Spotlight section shows off full-screen stills and descriptions of videos that might be of interest. The Favorites section is seeded by the user. When you first open the app, it asks you to input some artists you like, drawing almost exclusively from the top 40 charts. Vevo gives you future recommendations based on those preferences, and you tap the heart button to add videos and artists to that collection over time. Favorites is also the home of your playlists.
In appearance, the new Vevo is top notch. It's a great reflection of current mobile aesthetic preferences and a very sleek experience. In functions, it's nothing revolutionary. For people who do get most of their music listening from videos and from artists on bigger labels, this could be a nice option. The one thing to note is that Vevo has ads, and there's no way to skip or ignore them.