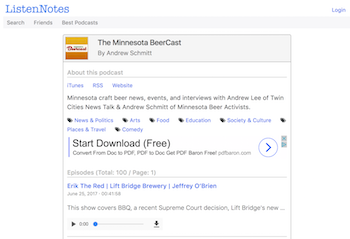 In just about any gathering of podcast professionals, the conversation is bound to turn toward discovery. How can discovery be improved? How can shows reach and retain new listeners? We've seen several ideas take shape around the podcast discovery concept, and today we're looking at Listen Notes. This database is the work of an independent software engineer and it currently includes more than 322,000 podcasts and 17 million episodes.
There appear to be two core tenets to the Listen Notes experience. First is the search, browsing the listings for whatever show piques your interest. I was pretty sleepy this morning, so "coffee" was at the forefront of my mind and was my first search topic.
The query yielded several well-known outfits in podcasts and publishing, such as HowStuffWorks, Vice, BBC, and Food52. But it also turned up episodes from niche shows, such as a clearly local program called The Minnesota BeerCast, or a rabbi-hosted show about keeping kosher in restaurants. I really appreciate the variety, although the results do seem entirely dependent on the shows' own metadata. Going for a search by style (such as "funny") was unhelpful; you'll only get results from the language in a show's name, episode title, or episode description. There are tags that you can peruse from a show's hub page or the Best Podcasts tab, however. You can listen to episodes directly on the Listen Notes website, download them for later listening, or go directly to the show's website.
The other facet to Listen Notes is the one I'm less sold on. The website also has an option to make an account and connect with other users. That mostly means checking out their lists of recommended shows. That's a helpful option, but it's usefulness is dependent on knowing and trusting the other people who you follow. With less than 200 members so far, the burgeoning social tools may not be as well-developed as the database tools.
ListenNotes does host ads, and it's not offering much in aesthetics. The layout is minimal, but functional. It's easy to use and accurate, which are probably more important qualities for succeeding.
The straightforward database came on our radar after a mention in Podnews. The daily email from James Cridland rounds up any interesting items and news from the podcasting space.