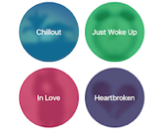 There's a new mobile radio app on the horizon. It's called Mr. Yep, just Mr. It's the work of Shellanoo, the same company behind the Music Messenger program. The service bills itself as "the world's easiest to use music radio app." And technically, that may be accurate. All you have to do is select one of the provided moods or activities, and you've got your radio stream, all powered by Shoutcast.
I appreciate the simplicity of this programming choice. So many of the top streaming services these days require time and pruning to get your desired feeling (Pandora), have a bloated interface (Apple Music), or offerso many choices that it's hard to know where to start (Spotify). So props to the Shellanoo team for envisioning a basic service and sticking to that plan. It's a good niche to have in today's market.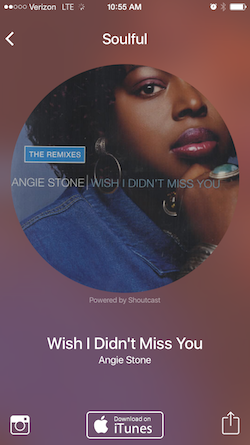 There are a few downsides to that strategy, though. First, I was really missing explicit genre divides for the programming. The moods playlists wound up roughly grouping into musical styles, but I would have liked to see channels dedicated to specific genres or subgenres. Second, some of the moods, while evocative, either didn't seem like they'd get much airplay in my life or didn't line up with what I expected to hear. For instance, when I'm Confused, I don't want to listen to throbbing, twitchy electronica. And Sad and Lost both favored soft, moody downtempo; sure, the feelings can have some overlap, but there are plenty of tunes that evoke those feelings in other genres.
Personal biases in programming aside, the app is undeniably lovely. The design is simple and streamlined, focused on a circular theme. Many other mobile apps get cluttered with tools or buttons; not so Mr. Once you start your station, you'll see an image for the track, plus its title and artist. At the bottom of the screen is an integration with Instagram on the left, a sharing button on the right, and an iTunes download button in the center.
That's it. No muss, no fuss.
Also no ads. Mr.'s description on the App Store and Google Play explicitly said that it would always be free and never have banner ads or in-app purchases. Whether that means the company will turn to in-stream promotions or find alternate routes to generating income remains to be seen.
If you're hankering for a true lean-back experience, then Mr. is a good choice. Find a mood or activity playlist that really speaks to you and you're all set. At the very least, it's worth a look for other companies wanting to create a music platform. Mr. sets the standard for a clean, simple app.