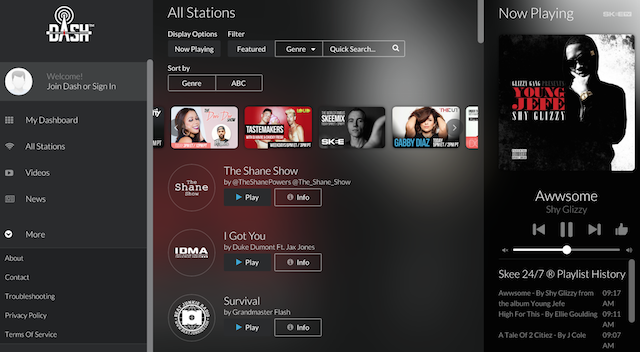 Dash Radio has an impressive pedigree. It's helmed by Scott Keeney, who built a rep as DJ Skee at KIIS FM in Los Angeles, and it has support from heavy hitters such as L.A. Reid, CEO of Epic Records. It also pulled in Peter Ferraro and Frank Prisinzano of the legendary East Village Radio.
The goal with this platform is to return to FM radio's original music discovery roots, presenting playlists and personalities that felt they were being squeezed out by the dominant media companies taking control of the airwaves. Dash Radio's stations are on the digital air 24/7 and without commercial breaks, all for free. It also has a mobile component, with apps for both iOS and Android.
It's a bold plan and so far it's bearing out well. At any given time, you'll find stations streaming just about any genre. Even the top 40 and rock sections have stations that delve into the deeper cuts and explore beyond the most common terrestrial radio playlists. Dash also supports the DJs, giving the tastemakers a chance to show off their attitudes and knowledge rather than just introduce each track.
The little details in presentation show the care Dash Radio's team is putting into the platform. The playlist history includes the titles, artists, and timestamps for the past 20 songs. Hovering over the album art reveals all of the sharing features. Also, you can continue navigating around the site without stopping the music, checking out the news posts or browsing other show options while your station continues to play. Creating an account on Dash means you can also put together your own dashboard of the stations that you enjoy most for a personalized online radio hub.
Most importantly, Dash Radio is fun. I was in a country mood and was treated to a great mix of ballads and banjos on The Ranch. I also checked out DJ Skee's own show, which had a great flow across hip-hop, pop, alternative, and electronic tunes. For making the listeners and DJs equally happy, Dash is currently hitting all the right notes.