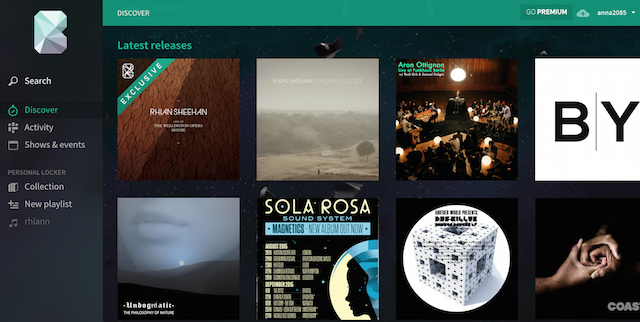 Baboom joined the ranks of of new digital music properties with its launch last week. The company blends several promising ideas from other digital upstarts, such as the direct-to-fan patronage of Bandcamp and the stream/store combination of Beatport. The result is a product that feels new and more promising than most other musical startups.
I spent some time exploring Baboom without making the commitment of a subscription to get a sense for what it's all about. In terms of the usability, it's not too different from other recently released music services. You can search music by name or hashtag, you can build playlists, you can see the artists' recent social posts. The most notable element of my test drive was that I didn't recognize a single artist. The base of Baboom for now truly is the indies and up-and-comers, and providing those artists a venue that makes the hustle easier is one I can get behind.
But the real reason to get into Baboom isn't that it offers something unique in terms of listener experience. The philosophy at the company is about forming connections between artists and their fans, all centered around a new musical business model. It advocates "fair trade streaming," with artists receiving 90% of the revenue that goes into the platform. It also has simpler options for getting writers and composers paid. The artists who bring in paid subscribers also get a commission on those listeners. They can set the price on their tracks and albums, so some (but not all) tunes will be available for free. Some are provided under a name-your-price scheme. Once you buy a song, it's added to your Collection for on- and offline listening, as well as made available for download.
While Baboom is mostly being discussed in the media as a streaming option, the platform also has a store, which seems to be the bigger focus for this business. Users need to build their Collections first in order to listen as you would to a typical on-demand streaming service such as Spotify. You can upload tracks that you've bought from other sources, but it is clearly angling for members to dive into discovering artists they wouldn't find anywhere else.
It doesn't seem likely that Baboom will get buy-in from the greater music-listening population. But that isn't necessarily the point. "We're here to provide a boutique experience for independent artists," CEO Grant Edmundson told Billboard. "The idea is not to put the spotlight on Baboom, but on the artist and their content." The company is offering a new take on how artists can do business. For those listeners who understand the value of supporting musicians and seeking out independent performers, Baboom could be a compelling resource.