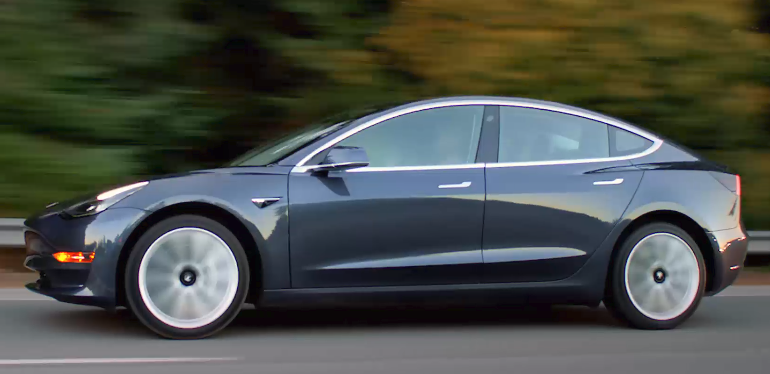 UPDATE: The day after posting the article below, RAIN News received a note from TuneIn, describing that platform's inclusion in the Tesla Model 3 audio stack, as "a premier, off-the-lot, built-in direct integration with the Tesla UX [user experience]." That information contradicted our report below. The TuneIn brand is not mentioned in Tesla's spec sheet, but a screen shot provided to RAIN News by TuneIn shows that platform as an installed option alongside a bundle of streaming stations powered by Slacker Radio (see below). "We are the only streaming service direct integration with its own default position in the core Music section," a TuneIn spokesperson told RAIN News in an email.
---
We were interested to see Tom Taylor's note about the Tesla Model 3 electric car, which is apparently being delivered with no AM/FM or most other audio options. The Model 3 is widely celebrated as the most modern and advanced electric car on the market, with many would-be owners back-ordering the vehicle through a reservation system.
The source of this information is The Drive, which reported that early Model 3 deliveries were absent of AM/FM, USB audio connectivity (thought the dashboard is equipped with four USB plugs), Bluetooth streaming, or smartphone connection. The only built-in audio option is reportedly Slacker Radio. (Slacker was recently acquired by LiveXLive Media.) As an audio lineup, that is inexplicably limited.
Tesla responded to the report with a promise that future audio capability will be added via over-the-air updates — similar to upgrading a phone's operating system. The Tesla Model 3 website does list "FM/Internet streaming radio" as an included feature, so presumably it will be added. we haven't found any timetable, or more specificity about the features which will be added.
During the summer hints emerged that Tesla was creating its own streaming service. In non-U.S. regions (Europe, Hong Kong, Australia), Tesla  partnered with Spotify in 2015, replacing Rdio in December of that year after Rdio fell into bankruptcy.
This week's apparent no-FM car deliveries underline in an exaggerated way how terrestrial radio is becoming de-emphasized in modern dashboards. Delivering a road-worthy car to a customer or dealer with no way of tuning a terrestrial signal is shocking, no matter what update explanation accompanies it.