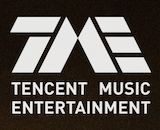 Tencent Music has reported its financial results for the third quarter. Total revenue rose 31% on-year to reach 6.51 billion yuan ($910 million). That figure included 1.85 billion yuan ($258 million) in revenue from online music services, which rose 26.2% from the year-ago period, and 942 million yuan ($132 million) in revenue from paid music via subscription package sales, up 48.3% on-year. Operating profit for the period increased 11.9% to 1.19 billion yuan ($166 million).
The company made efforts to grow its listener base during the quarter, including programs aimed at attracting students. Mobile monthly active users of Tencent's online music grew 0.9% to 661 million. The number of paying users for online music increased 42.2% to 35.4 million.
Tencent Music is also expanding its content offerings. It worked to add video content during the period, as well as introducing more audio content such as podcasts and audiobooks.