Brussels-based Targetspot SA (née Radionomy) last week announced the sale of its Targetspot digital audio ad sales business to Azerion, an Amsterdam-based public company that operate a high-growth digital entertainment (i.e., online games) and media platform.
In the press release announcing the transaction, Alexandre Saboundjian, President and Founder of Targetspot SA, commented: "Our Targetspot division and Azerion complement each other perfectly: we bring a proprietary digital audio technology that was missing from Azerion's current Adtech platform, while Targetspot will benefit from Azerion's commercial strength, present in 24 countries, and its close ties with over 575 publishers and 400,000 advertisers."
The financial terms of the transaction were described as follows: "This operation will allow the three shareholders of Radionomy Group B.V. (Targetspot holding 98.5% of the capital of Radionomy Group B.V. and two minority shareholders holding the remaining 1.5%) to receive: a total cash payment of €7.5m paid in three tranches of €2.5m each, at closing, at 30 April 2023 and at 31 January 2024; and a payment in Azerion shares of €19.1m (i.e. 2,782,644 Azerion shares). Besides, Targetspot SA (and the other two minority shareholders) will also be eligible to receive an earn-out in April 2024 for a maximum €3m, payable in Azerion shares.

Radionomy, the original parent company was founded in September 2007 by four Belgian entrepreneurs: Alexandre Saboundjian, Gilles Bindels, Cedric van Kan, and Yves Baud, as a consumer website along the lines of Live 365, which allowed European music fans to build their own online radio stations.  ("Radionomy" is apparently a  portmanteau of two words: radio and autonomy.)
Radionomy began an ad sales partnership with Targetspot (then a New York-based firm) in 2012; won the "International Excellence in Online Audio" award at the next year's RAIN Summit Orlando; acquired Targetspot in late 2013; and acquired the Winamp and SHOUTcast brands from AOL in 2014.  In 2015, Radionomy sold a majority interest in the company to French mass media holding company Vivendi; in 2016 Vivendi's Radionomy division was sued in the U.S. by various Sony Music properties over an unpaid royalties claim; and in 2017 Vivendi sold the firm back to its original owners.  In 2020, the company shut down its Radionomy service, moving some of its users to its SHOUTcast brand, and in 2022 it renamed the company after its ad sales division, Targetspot.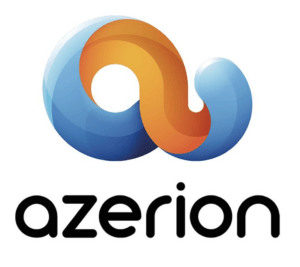 According to its own press material, the buyer, Azerion, "is a fast-growing and leading pan-European digital entertainment and media platform. Azerion's integrated platform provides technology solutions to automate the purchase and sale of digital advertising for media buyers and sellers. Content creators, digital publishers and advertisers work with Azerion to reach millions of people across the globe that play its games and its entertainment concepts to increase engagement, loyalty and drive e-commerce. Founded in 2014 by two Dutch entrepreneurs" — Atilla Aytekin and Umut Akpinar, who met at the Turkish student association at Delft University of Technology — "Azerion has experienced rapid expansion thanks to organic growth and strategic acquisitions."
Azerion went public via a SPAC last February and has a market cap today of $1.15 billion USD. (This is albeit down from a peak of $1.83 billion when it debuted.)
According to the press release, following the sale, Saboundjian's group, under a new name, will continue to operate within a scope refocused on Winamp, a subsidiary that now has three brands:
Bridger, a copyright management platform launched in April 2022
Jamendo, which sells the works of more than 45,000 musicians
Winamp, the iconic audio player.
Read the full press release here.