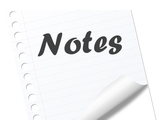 Jottings of note:
— Spotify webinar
Spotify is promoting its "Stream On" virtual event, Monday Feb. 22 at 11am ET. No registration necessary — just go to http://spotify.com/StreamOn
— Major league rep
Lemonada podcast network, famous for its "Last Day" podcast and others, signed with Creative Artists Agency (CAA).
— Superstudy
Coleman Insights has announced its third annual "Contemporary Music Superstudy." Results will be publicized in April.
Friday, February 19 Continue Reading →