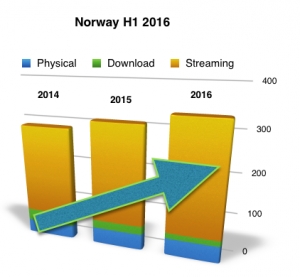 IFPI Norway released financial results for the first half of 2016, another banner report for streaming. The nation posted total music sales growth of 7.8% to 333 million kroner ($40.3 million). Streaming now holds a 83% share of that total, generating 278m kroner ($34.6 million) in the period. Streaming's share rose 3% on-year and the income increased 30 million kroner over the first half of 2015.
Physical sales and vinyl sales also posted improved results for the period. Physical sales rose 3 million kroner to a total of 43 million kroner ($5.2 million) and a 13% share of total sales. Vinyl saw a 43% rise to 14.2 million kroner ($1.7 million).
Revenue from video streaming generated just 1.5% of the nation's total revenue at 4.7 million kroner ($570,000).