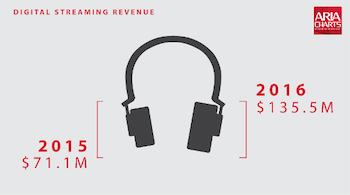 Australia's recorded music market pulled in annual revenue of A$352.2 million ($269 million) in 2016, up 5.5%. The data from industry group ARIA revealed a second consecutive year of growth.
The largest share of Australian music sales came from digital (70%) with revenue rising 17.6% to A$244 million ($186 million). Streaming contributed revenue of A$135 million ($105 million). The result marked a more than 90% increase on-year to secure a 38.5% share of Australia's music market.
On the other side of the coin, CD revenue dropped 21% to to A$87 million ($66 million). The format still holds about a quarter share of the total music market for the country. All physical revenue totaled A$107.9 million ($82 million) for 2016. Even with the 14% decline in physical revenue, those formats have a 30% share of the Aussie music business.