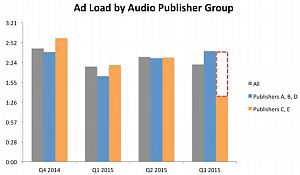 Streaming audio ad load dropped about 7% from Q2 to Q3, according to XAPPmedia's quarterly Ad Load Report. The drop occurred in the five music services measured by XAPP, in a way that the report characterizes as "an industry heading in two different directions."
As in the past, the Q3 Ad Load Report does not identify the services measured, naming them A, B, C, D, and E. The ad load in three of those services rose in Q3, and that movement was offset by a sharper drop in the other two. Accounting for everything, the overall ad load from 2:32 per hour to 2:21. Streaming ad loads are generally much lower than the commercial load in radio. In the last four quarters of this report, the average load has fluctuated between two and three minutes per hour.

While the number of commercials played differs sharply from radio, the standard 30-second spot governs the stream as it does terrestrial. In the third quarter, 83% of ads were 30-second spots.
One of the most interesting metrics provided by the XAPPmedia Ad Load Report is Time To First Ad (TTFA), which deepens the differentiation from radio. When joining a linear radio program you never know when the next ad block will start, and it's possible to join at the start of a big one, the average time to a streaming ad was nearly 14 minutes, according to XAPP. However, the frequency distribution shows that 36% of first ads are injected between five and 10 minutes after the stream starts.
More advertisers were counted in the Q3 report than previously — 150 companies marketed via audio streams. Two of the anonymous services exhibited much more advertiser diversity across the last four quarters than the others.
The report's conclusion focuses on the growing diversity of advertisers and divergent ad-load strategies. The complete report (freely available here) breaks out its results in more details than described here.