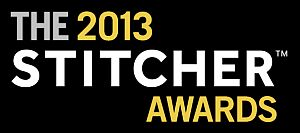 Speaking of podcasting (see Jennifer Lane's post), podcast app Stitcher has opened up public nominations for The 2013 Stitcher Awards.
You have to Like the Stitcher Facebook page to participate. We don't love that sort of social pressure, but it's an identity marker that prevents stuffing the ballot box. Moving on to the nominations, we count 19 categories ranging from Best Overall Show to Best Investigative Reporting and Best Storytelling. Participation is limited to one per day, but we put in two — perhaps it's one nomination per category each day. The site isn't exactly glutted with explanations, but that keeps the interface clean and simple.
Put in your choices by December 24 — and don't leave it until that day, because that's when you do all your Christmas shopping. The following stage will allow users to vote for a winner.