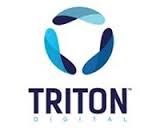 In the September report of Triton Digital's Webcast Metrics Top 20 Ranker, overall stream listening inched upward a bit (one percent from thee previous month), and a couple of entities moved significantly.
The Entercom/CBS merger is represented for the first time in the September report, even though the acquisition didn't close until later. According to Triton, Entercom's Average Active Streams (the metric RAIN uses in its Ranker tracking) gained 180% by combining properties. Furthermore, the station swapping which was part of the deal caused AAS changes for Bonneville (+19%), iHeartRadio (less than 1%), Beasley (+20%), and EMF (+4.5%). (As a sub-note, Beasley has included Greater Media stream listening for several months, due to that acquisition.)
Spotify gained a robust 4% in September compared to August. Notably, Spotify's AAS, measured as a percentage of Pandora's AAS, has grown for 21 consecutive months, and 31 out of 32 months since Spotify joined the Ranker in January, 2015. In other words, Spotify's chart line is reaching methodically upward toward Pandora's chart line. In September, Spotify's AAS was 1.91-million against Pandora's 2.06-million, for 93% of Pandora's average number of listening sessions. This trend points to a future Ranker landmark when the trendlines of those two companies meet.
Here is where the major trendlines stand in the September report: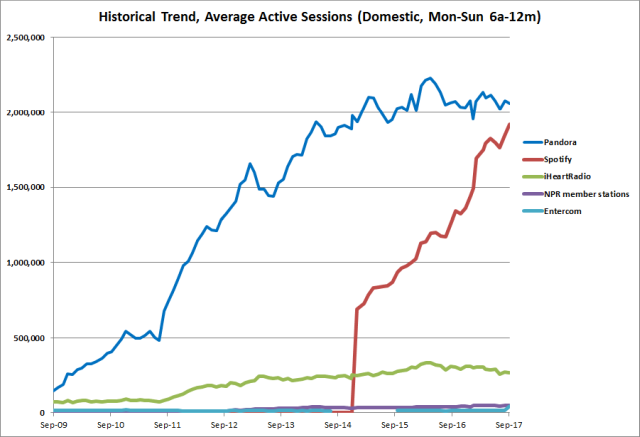 Year-over-year stream listening gained 13% in September: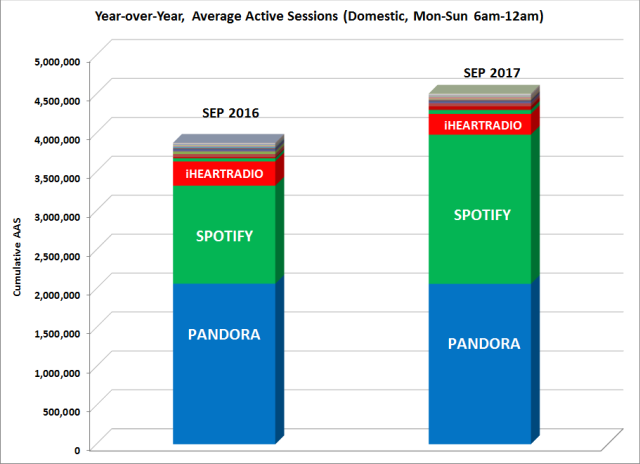 Finally, Triton notes that the peak streaming time is 2:00PM on weekdays, and noon on weekends.