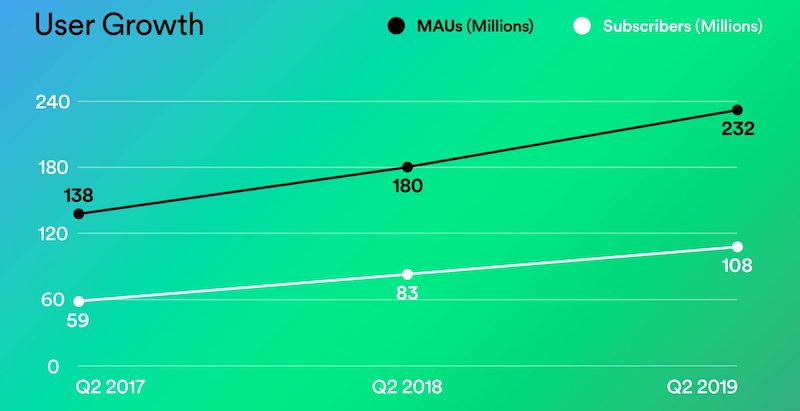 Spotify's second quarter financial results included notable growth in both its monthly active users and its subscriber base. The company now boasts 232 million monthly active users, up 29% on-year, and 108 million subscribers, a lift of 31% from the year-ago period. Europe was the largest region for the subscription audience, responsible for 40% of that base, followed by North America with 30% and Latin America with 20%.
Quarterly revenue for the company reached nearly €1.67 billion, marking 31% growth from the same period last year. Subscriptions were responsible for €1.5 million of that total, also up 31%. Ad-supported revenue for the platform totaled €165 million, up 34%.
Spotify continues to operate at a loss, but it has been steadily moving toward profitability. The quarterly operating loss for the company was €3 million, compared with €47 million in the first quarter of 2019 and €90 million in the second quarter of 2018.
The company also made a special note of its efforts in podcasting in its shareholder letter. Spotify said that tens of millions of users are now tuning in to its podcasts every month, with its podcast audience nearly doubling since the beginning of the year.
It also stated that it has reached licensing agreements with two of its four major label partners. Spotify did not specify which key players it had landed deals with, but noted that it is "in active discussions" with the other two businesses.