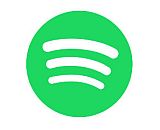 On Spotify's announcement blog, the company announced yesterday that video blogging is now native to the platform. The feature is not Spotify's first foray in video presentation, but it is a new global feature for the company's podcast service. The announcement says that video podcasts are active in the mobile apps and desktop, but (as James Cridland noted in this morning's Podnews), we could not get it working on the desktop setting.
This feature seems like a stage-setting for Joe Rogan's video format, which moves exclusively to Spotify by end-of-year. The company statement reads:
"The new feature allows select creators to bring both audio and video content to Spotify, enabling them to connect more meaningfully with their listeners, expand viewership, and deepen audience engagement. It's a way to enrich the audio experience—for fans and creators alike."
The announcement notes that the video podcasts are also independently audio presentations when needed — for example, when the user switches to another app in the foreground. In that case, Spotify continues playing the audio podcast. whether intentional or not, this is a swipe at YouTube which (in free-listening mobile scenarios) simply stops playing when the app moves to the background.