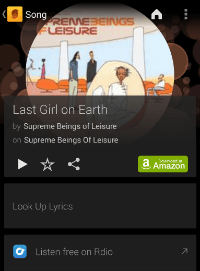 Music-recognition app SoundHound upgraded its iOS and Android apps, deepening its search, discovery, and listening experience. Those front-end enhancements are matched on the back end by technology improvements that make music identification faster and more accurate.
One of SoundHound's most differentiating features is its ability to identify music that is sung — or hummed! — into the app by the users. This was effectively demonstrated to us by Cheryl Lucanegro, SoundHound VP of Sales, on a noisy balcony overlooking The Strip in Vegas. That function is part of the tech upgrade, and our testing (with cracked voice uncertainly warbling half-remembered oldies) was amazingly successful.
Design and navigation are the most noticeable changes. SoundHound's core function is one-touch song identification of music heard in any environment. After pinning down the song, the new app deepens the follow-up experience with a results page that features longer artist biographies, video and album lists (you can play the videos in the app), recommendations, reviews, and previews.
Another distinguishing feature, LiveLyrics, works by scrolling lyrics along with the identified song, which SoundHound is still listening to as it continues playing on the radio, in a club, or wherever the user is. That feature has been expanded to cover more songs, according to the press release.
All this advances the growing use and importance of music-ID apps, of which SoundHound and Shazam are the market leaders. As those two compete for market share, each is striving to provide an immersive experience that makes the app an indispensable companion in the musical soundtracks of people's lives.