SoundCloud introduced a new feature which makes it easier for account-holders to collect and organize music. Aptly, it is called Collections.
Collections does not add new functionality, but is an organizational tools which displays a user's tagged music differently from the time-honored list of waveforms. The result is a page which collects collections — a user's saved tracks, playlists, and followed artists. In our view of the web app, Collections puts about four times as much content on the page as the previous list view. The legacy lists are still there; Collections exists as a new navigation button in bar atop each SoundCloud page.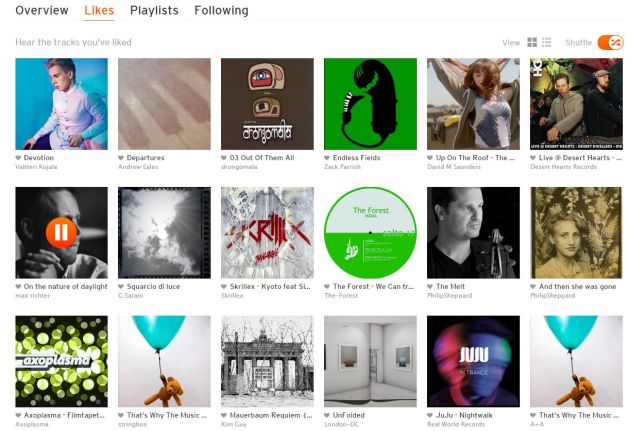 User reception of this enhancement is lukewarm, judging by comments on the blog announcement, but we think the feature is an important enhancement that solves a problem. In the legacy list view, saved music can become invisible and forgotten as it moves down the list when new tracks or playlists are tagged. This is a risk with all on-demand music services, but a bigger problem in SoundCloud's clunky layout, where each track's listing can occupy a third of the screen. The Collections view is more compressed, ditches the traditional SoundCloud orange waveform. The new page also offers a shuffle option, missing before.
Collections has renewed our SoundCloud listening pleasure, bringing back long-forgotten tracks that are not available anywhere else. Highly recommended for long-time SoundCloud music collectors.