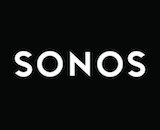 Sonos has sent its latest shareholder letter with second-quarter financial results and some product updates. The company had a difficult period, with revenue down 17% on-year to $175.1 million. Its sales figures took a big hit, falling 23% year-over-year with 680,591 products sold in the period. Net loss was $52.3 million, growing from the $22.8 million loss in Q2 2019.
The company is still adjusting to the continued uncertainty caused by the COVID-19 pandemic. Sonos has withdrawn its guidance for the 2020 fiscal year. Although it has been challenged in Q2, the shareholder letter noted that total listening hours in March increased 32% year-over-year. Growth in online sales also helped offset some of the losses from physical retail.
Sonos also shared three new product announcements. It debuted a new smart soundbar called Arc that will retail for $799. The Play:5 has been redone as the Sonos Five, with a similar form factor and specs as the previous high-fidelity wireless speaker. It will cost $499. Finally it has relaunched the Sub subwoofer, adding lower frequencies and improved processing power at a $699 price tag. All three products will be available June 10.