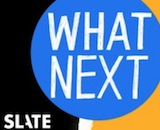 Another news podcast joins the increasingly crowded field as Slate expands its podcast roster with a daily morning show. Today marks the official debut of What Next, which will provide in-depth analysis on one story every day in each 20-minute episode. Mary Harris, a veteran with two decades of experience in broadcast television and public radio, is the program's host. What Next began with a four-week public pilot during late 2018, running in late afternoon and early evenings.
Continuing the pilot format, What Next brings a deep dive to one topic — so, resembling The Daily (NY Times) more than a top-line news roundup like Up First (NPR). The official first episode is titled "The Republican Party Shake-Out in Kansas."
"With What Next, we want not only to help you feel mastery of the facts but to really help you understand the forces behind the news, from a human point of view—and to present all of this in an accessible, conversational way," Harris wrote in an article launching the podcast.
News and current events shows have become a competitive category for media companies entering the podcasting space. The Daily and Up First are two of the most successful of all podcasts, inviting competition intent on slicing a piece of the audience pie. ABC News (Start Here), Vox Media (Today, Explained), and The Washington Post (The Daily 202) are a few other majors in this league.