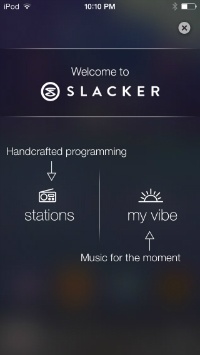 Creative curation is Internet radio's latest programming vogue. Songza, for which "life moment" playlists are the cornerstone of the service's "Concierge" programming strategy, emblemizes the approach of serving the user in action, furnishing a music stream that matches daypart, activity, and mood. This tactic, more than simple genre or decade playlists, seeks to make the service exquisitely responsive to the listener's transient state of mind. Songza attempts to soundtrack the changeable here-and-now.
It is an appealing service paradigm, one that can be optimized by granular song tagging on the back end, refined by user customization actions (likes, skips, shares) on the front end. Slacker, a competing platform which has long specialized in creative in-house playlists, recently co-opted Songza's playbook and established a new aspect of its listening app. Called "My Vibe," Slacker's day/do/mood associations are clearly modeled on Songza's leadership. Slacker introduced the mobile version with an iOS app specifically designed around iOS 7 (it is gorgeous), and its new Android experience dropped into Google Play yesterday (it is serviceably attractive).
If you choose the "My Vibe" path through Slacker's new apps, you are presented with a greeting which calls out the current daypart ("Pick some music for a Friday afternoon") and requests a couple of choices — just as Songza does. If there is a key differentiator in Slacker's favor, it is how the interface is packaged on a smartphone screen. The user makes two choices on one screen to get the music started. On Songza, the user is pulled through three decisions on three screens. A tiny detail? Yes, but convenience resides in details, and the lean-back listening market seeks the best, most personalized music with the least effort. On this point, it's a win for Slacker.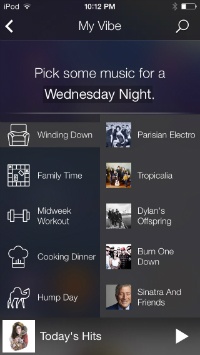 The two services also differ in how user choices are described. Songza requires more knowledge of music sub-genres — a nice hook for people who do understand, for example, psybient electronica. Slacker, in contrast, uses evocative station titles like Yoga Flow — attractive to listeners who catalog music by its effect rather than genre designation.
If Slacker's My Vibe stations seem familiar to its users, there is a reason: the stations are existing Slacker playlists repurposed for the My Vibe environment. The new interface appears to be accomplished through tagging of existing assets ("Handcrafted stations") to the day/activity layout ("Music for every moment"). If that is comprehensively true, Slacker has leaped into Songza's space without any additional handcrafting.
It will be interesting to see whether other platforms bite into the music-for-now space, and — futuristically — how this programming tactic might be extended by new mobile technology. Imagine a smart watch which feeds you workout music when it discerns that you are exercising, or lullabies when you are in bed. Or consider Google Glass, which wouldn't need to ask what you're doing — it can see for itself. My Vibe? Or, My Every Move Tracked By Technology?