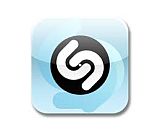 A just-released report claims that iTunes Radio does not have much power to drive music download sales in iTunes. Music-recognition app Shazam might have an answer to that. Shazam announced results of its app usage during the Grammy ceremony. It was evidently a big night, during which users "Shazamed" the telecast over a million times, and click Buy buttons 54,000 times. That's a more direct correlation of listening to buying than Apple has disclosed in its hybrid radio/download service. (To be fair, Apple hasn't talked about iTunes Radio at all lately.)
Shazam competitor SoundHound also presented a Grammy-focused experience in its app, but has not disclosed metrics for the night.
While Shazam succeeded in driving over five percent of its Grammy-night users to the Buy button, the wording is careful: "People went directly from Shazam's GRAMMY Awards experience to iTunes and Amazon approximately 54,000 times during the broadcast to buy the tracks and albums." Amazon purchases require several clicks in the Android app after hitting the first Buy button, so it's unclear from the press release whether Shazam tracked (or is able to track) completed transactions.
But the important thing in e-commerce is the "funnel." Shazam is clearly effective at motivating users to go down that funnel from listening to buying.