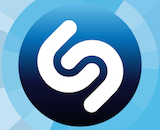 Shazam's Android app now has integrations with Google Play and Google Play Music All Access. The Android marketplace is now the featured resource for buying a track tagged in Shazam. Google's on-demand music service joins Rdio, Spotify, and Deezer as ways to stream a song you've identified. The streaming networks are all visible by tapping the drop-down menu with the play button icon.
This is an intriguing move considering we've seen rumors about the new YouTube Music Key service all summer long. A subscription service through YouTube would most likely involve links to the existing Google streaming platform. All Access has been pushed out to new international markets, and it was available as a free trial for Chromecast users through this month. It will be interesting to see if this All Access expansion is part of a plan to get the eventual YouTube Music Key to more listeners quickly.
Additionally, Shazam's new relationship with the Google services gives it a leg up against top competitor SoundHound. We've previously covered how the two music-ID apps are often in a dead heat to offer more features and related music services to their users. Both Shazam and SoundHound offered access to the Apple ecosystem for iOS devices, but Shazam is now moving farther into new territory. We'll have to wait and see if SoundHound can respond.