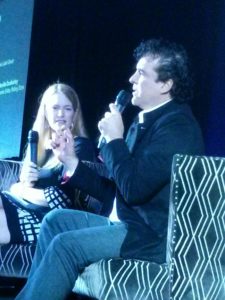 When Scott Borchetta arrived at RAIN Summit Nashville he didn't plan to make a product announcement. But an unexpected question from the audience drew him into revealing a hint of something new from Big Machine Label Group, the influential record company he founded.
The music industry executive and American Idol star took the RAIN stage as keynote speaker with Beville Dunkerley, Senior Editor of Rolling Stone Country, for a 30-minute chat about how digital has affected his business. For the most part, the interviewer role was handed to the audience, which responded with a stream of questions.
Russ Crupnick of MusicWatch stood up to ask Borchetta about exclusives, which have rocked the music-service industry with controversy. "Few and far between," Scott Borchetta said about his use of that strategy. "A big part of this is the Wild West," Borchetta said of business experiments.
"We can't get enough data," the label exec responded to another question. He said that a triple platinum record represented one percent of market buy-in, and that data helped with fractional gains toward that slim margin. Borchetta also said that streaming music services are at the front end of data, and have saved Big Machine $1-million this year identifying artists and tracks that underperform.
Concerning that mystery product, Borchetta was spurred by sharp questioning from RAIN's Michael Fischer, who asked whether Big Machine would ever consider releasing archived concerts such as the legendary King Biscuit Flower Hour. The question might have seemed like a plant, but it wasn't. Scott Borchetta replied, "Without giving away too much, we are one minute from releasing something very much like that." He briefly described custom content that might be 15 minutes long, and could be announced as soon as this week.
The session started off with advice to broadcasters in the room. "This is a critical moment. If listeners leave radio, they won't come back," he warned.