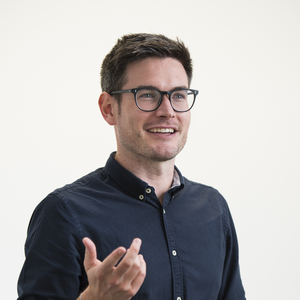 Sam is the Insights & Engagement Director at Hook Research – a London-based audience insight and content development agency. He is Hook's expert in all things audio – regularly working with leading brands to help them better understand consumers' needs within today's complex and dynamic media landscape.
---
Brands have recognised that kids' audio products – particularly those involving music – have huge commercial value for some time.
In the pre-pandemic days, we saw brands in the UK refocus on delivering a compelling audio experience for younger listeners – whether that was through the loud entrance of Spotify Kids; Lego and Universal joining forces to power up 'play'; or Sony's launch of the Magic Star label, designed to sign, develop, and market content for the "untapped" family market.
This renewed interest in the commercial opportunities of the kids market has been unlocked, it seems, by the demonstratable value of kids music on streaming platforms: in 2019, for instance, Disney claimed 85 of the top 200 streamed songs, and Baby Shark was streamed 980.53M times (combined audio and video)
Lockdown, has made the value of this content more apparent. With schools out, and kids bored at home, parents have been eager to find ways to entertain their children that don't involve either screens or gaming.
The growth in youth-skewing linear radio – the UK's Fun Kids Radio reported an 80% growth in listener numbers over the Covid period – is indicative of a wider growth in kids audio products more focused on offering a spoken word experience: a quick search on Google Trends for both 'kids podcasts' and 'kids audiobooks' in the UK reveals an uptick since the middle of March.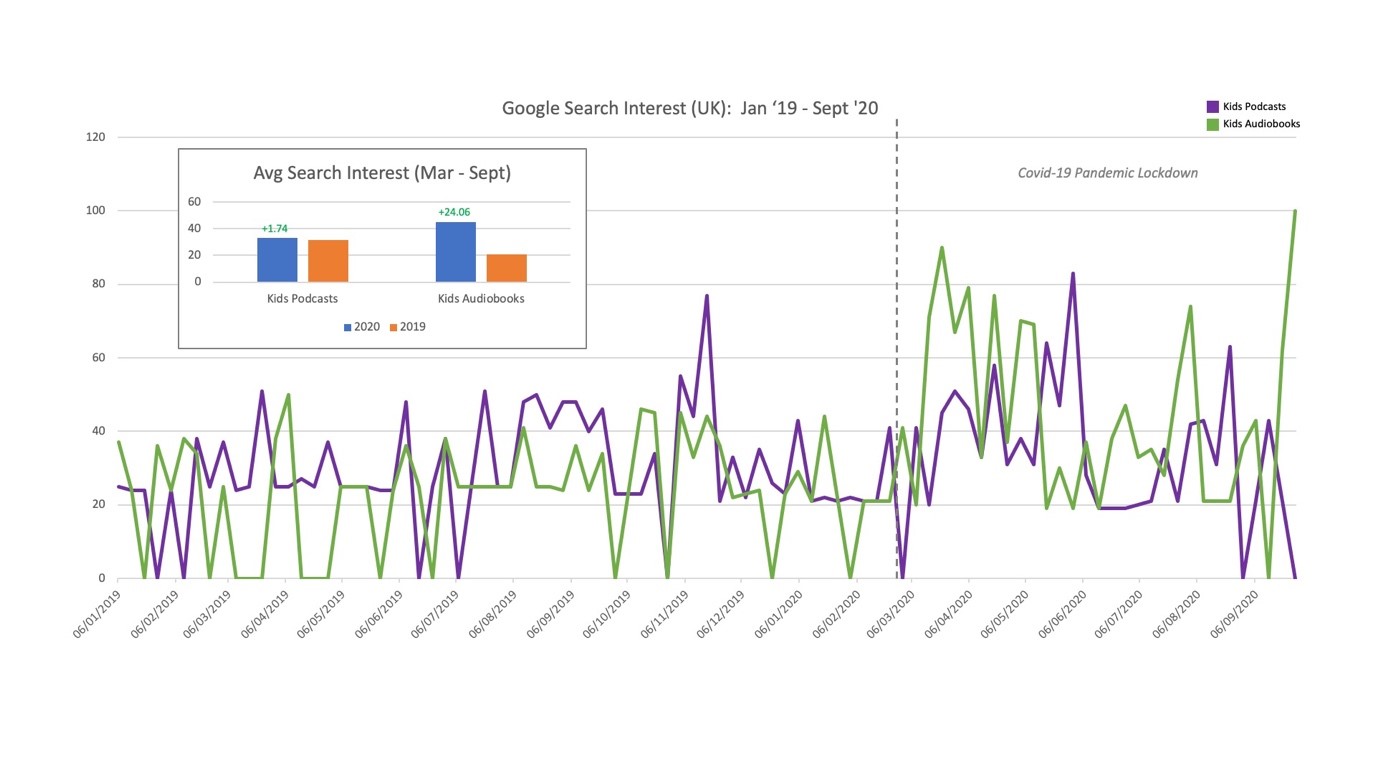 This data is reinforced by Podtrac data from across the Atlantic – pointing to the increased consumption of 'Kids & Family' podcasts among our American cousins. International podcasters in this space have also reported a bump in growth over March of this year – kids' giant Wow in the World reported a 23% increase in downloads (vs the previous 13 weeks), while Gen Z Media (a distributor of kids podcasts with PRX) reports an approximately 30% growth in overall listens.
Given this renewed focus on the medium, I thought it would be useful to explore the state of the kids spoken word content market in the UK and contemplate the benefits for brands operating within it.
These thoughts come from my own experience as a Director of Insight & Engagement at Hook Research, an audience insight agency specialising in kids media. In this role, I've spoken with kids across the UK about their podcast and audiobook habits; moderated, produced, and taken part in panels with audio experts; and interviewed many experts in this space for a series we run at Hook called 'Creator Conversations' – and I've distilled some of the most useful takeaways from those conversations here.
State of (Audio) Play in the UK
Let's start with an overview of the youth podcast and audiobook landscape.
Kids podcasts is a relatively nascent and growing space. By my count of the podcasts listed within the Apple podcast genre of Kids and Family (specifically, the 'Education for Kids' & 'Stories for Kids' subcategories), there are approximately 3500 podcasts aimed at kids on the platform (as of June 2020) – for some context, there are about 1.25 million podcasts on Apple right now.
In the UK, exact numbers around listenership for young people (u15) is hard to find. Research from the BBC suggests that 60% of kids in the UK are open to listening to podcasts, but only 10% actually have listened. For some context, MIDAS puts UK weekly podcast reach for 15-24s at 22% and 27% for 25-34s.[1]
Contrasted with podcasts, Audiobooks aren't a particularly new phenomenon – from cassettes, through to CDs, and now digital platforms such as Audible, the medium has persisted as the space around it has changed drastically. As Anna Bond, the newly appointed Managing Director of Octopus Publishing Group, mentioned in a panel we hosted earlier this year:
"Audiobooks have been around for a while, and CDs are still a big part of the audiobook market… It's not a new thing. But, as booksellers, what we're interested in is how it's now going digital and that's opening up new ways to engage with kids" – MRS Kids & Youth Insights Conference 2020
It's certainly 'opening up' new opportunities for engagement. Across all listeners, Audible saw its revenue grow by 38% in 2018, riding a wave that saw audiobooks become the fastest growing publishing format in the UK.
At the same time, Deloitte predicted that 2020 will be a bumper year for the audiobooks, with an anticipated global growth of 25% – though this may be augmented somewhat by the pandemic (Google Trends data suggests a Covid bump in searches for 'audiobooks' since the beginning of March and US audiobook company Libro.fm has seen a 300% growth in membership since February).
With kids specifically, there have been similar gains: in the UK, there was a 138% growth in the popularity of audiobooks with children between January 2018 and 2019 – with 34% of kids listening to audiobooks for at least 15 minute each week.
I think these numbers paint a picture of a growing spoken word space for kids. Over the following paragraphs, I'd like to dive into why I think there's massive amount of potential for brands to engage with young people in this space, while also highlighting a few key barriers that we should all be wary of as well…
Four Key Opportunities in the kids podcast space
Audio is a trusted source of entertainment for guilt-ridden parents
Screens are effective baby-sitters for harried parents, but that doesn't mean that parents are eager for their child to be glued to these devices all the time.
'Screen guilt' is a very real phenomenon experienced by parents across the country,[2] who feel bad about the amount of time their child is spending with digital devices. A Mancunian mother we recently spoke with painted a rather dystopic picture of this fear:
"I took the dog for a walk the other night and just saw people in their homes staring into their phones, and I thought what's happening to us? I'm scared my daughter won't experience what we have – the normal world" (Mum of Girl, 8)
In our research, we've repeatedly found that parents love the idea of podcasts and audiobooks as they are felt to offer a remedy to this guilt: providing parents with a source of entertainment that doesn't rely on screens.
Even if they haven't tried them yet, parents are excited by the medium:
"[Podcasts] are definitely a platform I haven't really explored with him and I would definitely look into it more… it's a bit of a revelation really!" (Mum of Boy, 8)
We've also found that audio is generally considered to be a trustworthy medium: parents might have experience listening to podcasts or audiobooks in the past, and generally think they know what to expect. As such, they don't believe that their children could accidentally stumble into anything too inappropriate (clearly, they haven't listed to My Dad Wrote a Porno).
---
[1] Currently, podcasts reach between a fifth and a third of the total 15+ UK population (The MIDAS Spring 2020 puts it at 18% – up from 14% of the population in Spring last year – while recent Guardian research from the beginning of the Covid pandemic puts the figure at 33%). Of that same population, audiobooks reach 7% (MIDAS). For comparison, in the UK Live Radio reaches 88% of the population, and On Demand Music reaches 31%.
[2] It is this sense of guilt that has led to the creation of a number of kids audio products – one example being the Yoto Player – I sat down with their marketing director early this year to chat about how the product was designed as an antidote to too much screen time.
.