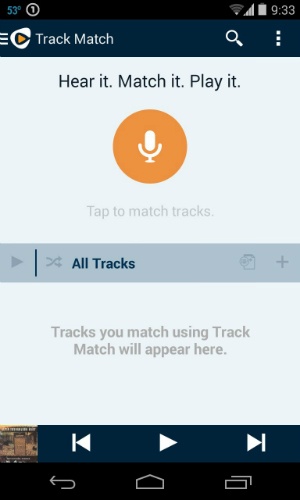 Song recognition apps like Shazam and SoundHound tap into a widespread desire to identify music in any environment. Shazam has been downloaded from the Android app store over 100-million times; SoundHound has seen over 50-million downloads. One use for these apps is to identify songs on the radio and integrate them into personal online playlists via music services.
Music service Rhapsody upgraded its Android app with something called Track Match, to solve the music-recognition need within its full-featured subscription platform. It's a good idea — you hear something, tell Rhapsody to identify it, save it in your library. The feature makes the celestial jukebox more connected to the real world of sound.
How well does it work?
Ideal Conditions
To test Track Match's ear, we started easy. Using mid-level computer speakers streaming another music service (not Rhapsody), we held up an Android smartphone running Rhapsody's Track Match feature. The phone was about three feet away from the speakers.
We started with two electronica tracks: "Interloper" (Carbon Based Lifeforms) and "Merlion" (Emancipator). Rhapsody failed to recognize either one. Rough start — even more so when we put Shazam and SoundHound on the trail of those two tracks, and both apps identified them without hesitation.
Was the music too obscure for an initial test? Probably not, as both tracks appear in the Rhapsody catalog. We veered a bit toward pop mainstream with "You'll Find Love" (The Cutes). The result was odd. Rhapsody did not recognize The Cutes, but did seem to know the track title, and displayed a list of other tracks whose titles contained "find love" (e.g. "You'll Never Find Another Love"). This perplexing result cause some head-scratching in the RAIN office, but onward.
Persevering, we played "Rescue" (Yuna), and "Burn" (Ellie Goulding). Success! Rhapsody Track Match proudly identified both songs. In the heart of the mainstream, we tested "Alien" from Britney Spears' new album, and Michael Buble's holiday classic, "It's Beginning to Look a Lot Like Christmas." No problem with those.
Classical Success
Classical music provides an interesting laboratory for track-matching. The standard classical repertoire has been recorded dozens of times by different performers — it is all cover music, when you think about it. So apps like Shazam, SoundHound, and Rhapsody Track are challenged to identify the piece (for example, Beethoven's "Moonlight Sonata") and the performer (one of the innumerable pianists whose recordings of that piece are in the standard catalog).
We started with the "Moonlight," and Rhapsody hit both marks. We tried an orchestral work: Tchaikovksy's "Cappriccio Italien." Bingo. We did others, and Rhapsody kept pace. (Interestingly, Rhapsody started as an all-classical service in 2001 before quickly expanding to all genres.)
Listening to Itself
It occurred to us that Rhapsody might have trouble recognizing music as played through another service. That wouldn't be an excuse, of course — any song-identification program must deal with poor listening conditions of all sorts. Still, we set up a Rhapsody echo chamber, playing the first two (unrecognized) electronica cuts from Rhapsody's web app, through the same speakers. It got them! Perhaps the encoding process or compression rate differed in the two tests, but again, it's still a fail if the matching app cannot cut through sonic issues. Speaking of sonic issues…
We simulated real-world conditions by simultaneously playing music and a sound effect of crowd noise. We laid in the noise pretty heavily. Going back to Britney Spears and Michael Buble, Rhapsody teased out the music through the crowd sound.
The Upshot
We're glad Rhapsody introduced this differentiating feature. We hope for reliability improvements to come.