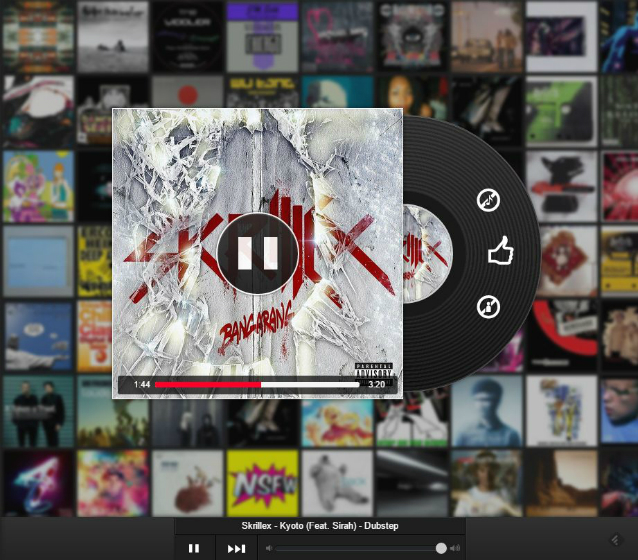 Radical.FM, an innovative online radio service that has been available only in mobile, extended its presence by launching a desktop version for computer listening. We took a tour through the multi-genre mixer that defines Radical.FM's interface, and spoke with Tom McAlevey, founder, CEO, and serial online radio entrepreneur.
The service boasts a library of 30-million tracks.
Monetization of the project takes a cue from both user-supported Internet radio stations like Soma FM, and public radio — donations from listeners. Radical.FM is ad-free (save occasional promotions of the donations).
Radical.FM has built a mobile audience, and a mobile-first approach certainly makes sense.  About the delayed roll-out of the desktop service, McAlevey told us, "We kept polishing it until it was good enough."
To our eyes the interface is beautiful and easy to master. It carries through the basic look-and-feel of key features from the phone apps.
Highly Customized Stations
Radical.FM's distinguishing, patent-pending feature is called My Stations, a genre mixer that encourages building deeply personalized stations that cross over traditional genre boundaries that mainly limit Internet radio. This feature breaks the assumption that people want to hear only one type of music in a listening session — although it's perfectly easy to create a single-genre station. Users can develop a portfolio of custom stations.
We created a test station with Alternative Rock, 70s Classic Rock, Coffee House, Fusion Funk, and Contemporary Blues. After choosing genres, we customized the balance with sliders.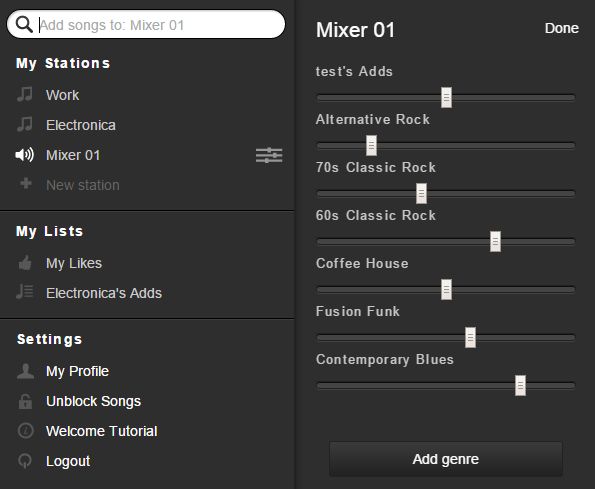 We also found much enjoyment from an Electronics station that mixed together some of the available sub-genres. That sort of customization, too, affords more fine-tuning than normally available in non-interactive services. There's good reason that Radical.FM has been characterized as what would happen if Pandora and Spotify had a child. It is lean-back listening (like Pandora), but with a level of tailoring that creeps toward an experience resembling a Spotify playlist. You can even search for songs within the vast Radical.FM catalog, and add them to a station, where they will be added to the rotation.
Delightful as this experience is, we hope for future expansion of the genre and sub-genre list, for even more customized listening.
Speaking of Spotify…
Tom McAlevey lived in Sweden for many years, and started two music ventures there. One was Bandit Radio, which still operates, and the other was Tom's Radio, a precursor to Radical.FM. Spotify founder Daniel Ek was a fan and user of Tom's Radio, according to McAlevey, who recently told an interviewer, "I inspired Spotify."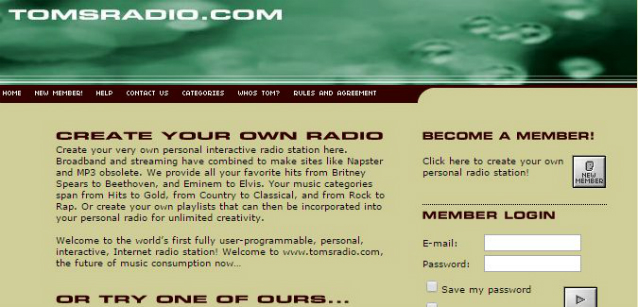 We asked McAlevey about the monetization, and how the donation-only model was going. He declined to break out numbers, but expressed confidence in the model generally. "It wouldn't surprise me if we're making more money today than if we were selling ads," he told us. "We believe that our experience is the best Internet radio experience, and we ask users to do the right thing in supporting it."