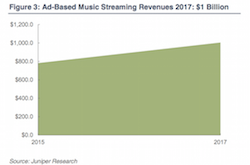 Juniper Research released new data examining the outlook for ad-supported streaming revenue in subscription services. This streaming model it commonly known as freemium listening, and is geared to funneling users into paid subscriptions which eliminate the ads and provide more interactive music-access features. Spotify is acknowledged by Juniper to be the market leader.
Juniper predicts that ad-based music streaming revenues via subscription services will exceed $1 billion annually by 2017, compared with $782 million in 2015. Mobile listening is cited as a top driver of growth.
"A key component within the current digital shift is arguably an evolving ideology where consumer interest is moving away from the ownership of music towards its accessibility," the Juniper analysts said.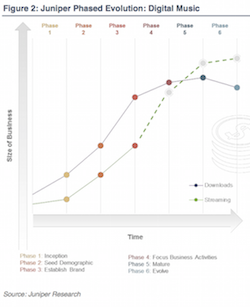 The report examined the trends of music consumption and the path of digital music to build itself as a business. For instance, it cited the 2014 report from the IFPI, which found digital music revenue pulling even with physical sales for the first time.
Another intriguing chart compared streaming's growth with the path of digital downloads. In Juniper's assessment, the freemium market is mid-stage in an evolving maturity course that will eventually see it take over music downloads.
Although Juniper acknowledges Pandora and other non-interactive listening platforms, metrics associated with those companies are excluded from this study of ad-supported freemium listening connected to subscription services. (Pandora also offers a monthly plan that removes commercials, but does not add music-access features and does not move Pandora out of the non-interactive category.) It is worth noting that Pandora earned over $1-billion of total revenue (mostly from advertising) in the past 12 months, as disclosed in its Q2 earnings report.