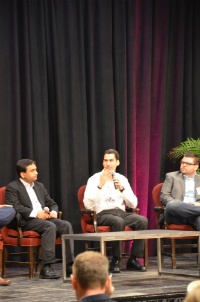 Last week at RAIN Summit West, the lens focused on podcasting for a panel called "The Podcast Phenomenon: Capturing Listeners with Compelling Content." (Full audio below.)
RAIN editor Brad Hill moderated a discussion among Bryan Moffett (NPM/NPR), Mark McCrery (Podtrac), Chris Peterson, (TheBlaze), Ram Ramkumar (Swell), and William Sanchez (Fox News Radio).
The panel asserted that podcasting is enjoying a resurgence, with recent Edison Research surveys indicating a 30% awareness of the category, and 39% of adult Americans listening to a podcast each month. But that consumer uptake is somewhat hampered by confusion about what podcast really is. Changing definitions over the last decade contribute to that confusion, as podcasting morphed from a download-only audio mechanism used by bloggers to an online audio program that can be streamed, downloaded, or a little of both.
The discussion moved from what a podcast is, to what makes a good podcast. Production quality, length (32 minutes is optimal listening time), and hosting styles were discussed.
Measurement is a key topic for the podcast industry. One data bottleneck is iTunes, which furnishes the leading podcast directory, but does not supply much audience-use information.
The full panel audio is below; click the orange play button.
---