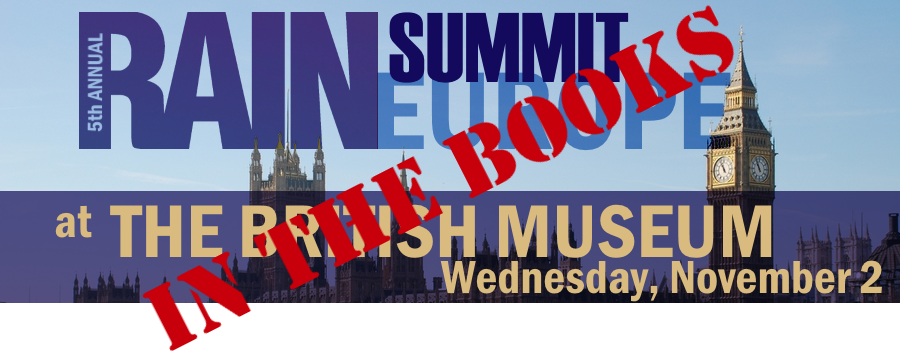 The famed British Museum received over 200 online audio professionals on Wednesday, streaming into the BP Lecture Theater for a full day of knowledge and networking at RAIN Summit Europe.
Radio, podcasting, and streaming experts from all over Europe (and Latin America) spoke about the present and future of webcasting, on-demand audio, technology, and the business systems which support streaming audio. Over 80 companies sent representatives to RAIN's fifth annual European gathering, and networking was in full force during planned breaks, lunch, and a cocktail party at day's end.
Also attending were several members of the Student Radio Association, who took advantage of full scholarships to the event, and also members of the UK's Community Media Association who attended free of charge.
The day was packed with highlights:
RESEARCH: On the numbers front, the Summit audience absorbed new metrics about in-car listening from Megan Lazovick (Edison Research), a mobile music forecast from Wei Shi (Strategy Analytics), and the inflection point of streaming music by Mark Mulligan (MIDiA Research).
---
---
DISCUSSION: Three discussion panels anchored the day's events. In the largest such production in RAIN Summit history, nine panelists from nine Euro and LATAM regions sat down with moderator Benjamin Masse of Triton Digital, for a candid talk on many aspects of digital audio. Earlier in the day, the "Radio Reimagined" panel discussed the present and future of radio as it undergoes many kinds of redefinition — there was quite a bit of audience engagement with that conversation, including an earnest and friendly debate between an audience member and panelist Simon Cole, CEO of 7digital. The "New Strategies in Digital Audio Advertising" panel brought forward explanations of programmatic audio platforms and the emergence of programmatic audio advertising.
SPECIAL PRESENTATIONS: RAIN Founder Kurt Hanson delivered his renowned State of the Industry address. Jason Phipps, who runs the podcast division at The Guardian (which, he said, invented the term "podcasting"), sat down for an interview with RAIN President Brad Hill. David Cooper of Spotify explained how data help advertisers reach consumers more effectively. Flossie Draper from the UK office of the Interactive Advertising Bureau (IAB) evangelized for adoption of standards which give the industry a common language and common metrics. Ending the day, Sam Crowther from A Million Ads delivered an immersive presentation with an audio soundtrack which was a deeply experiential sonic journey demonstrating how sound affects our minds.
RAIN Summit Europe was presented with the support of AdsWizz, BRS Media/dotFM, Spotify For Brands, Triton Digital, and 7digital. Also sponsoring the event: Audio.ad, A Million Ads, AccuRadio, and SoundExchange.
---