A London tube strike did not prevent 200 delegates from attending RAIN Summit Europe at the British Museum on Wednesday. A full day of presentations, interviews, and panel talks covered podcasting, streaming, advertiser expectations in digital audio, research, and the coexistence of radio and streaming. The event featured a diverse roster of speakers from the U.K. and the continent, as experts came from France, Germany, Italy, and Belgium to participate.
RAIN Founder Kurt Hanson delivered his European version of his State of the Union address. Other presenters at the podium included Erik Portier of Radionomy (If You Don't Have A Digital Strategy, You Don't Have a Future Strategy), Zach Fuller of MIDiA Research (Radio and Streaming – Learning to Live Together), David Cooper from Global/DAX (The Evolution Of The Podcast Buy).
Jason Phipps, the BBC's Commissioning Editor for Podcasts, who started that role in May, gave himself over to the keynote interview with RAIN President Brad Hill. Phipps described the strategic intent of the newly released BBS Sounds listening app, and strongly advocated for UK podcasters to find a strong collective voice to counter the fertile creative activity in the American podcast industry, which Phipps characterized as being in a golden age.
In another onstage Fireside Chat, Joe Copeman of Acast talked with Matt Deegan of Folder Media.
Four panel discussion informed the day with expert discussion:
Sarah van Mosel of Market Enginuity moderated the Digital Agency Panel. Michael Olaye (Dare), Debbie Vavangas (IBM iX), and Karen Boswell (Adam & Eve) discussed the expectations of the buy side.
David Lloyd of Notts TV moderated the Digital 360 panel, featuring Thomas Plessis (Lagardere Studios), Vincent Meyer (ZenoRadio), Ruth Fitzsimons (audioBoom), Pierre Naggar (AdsWizz). Sadly, Christian Schalt (RTL Radio Deutschland) was prevented from participating by travel issues.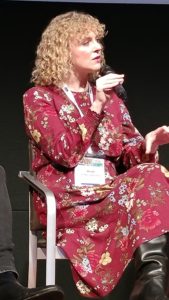 Neal Schore of Triton Digital led a discussion title Creative  Currency in Podcasting. featuring Gabrielle Boeri-Charles (Binge Audio), Katharine Kerr (Wireless Studios), and Mirko Lagonegro (DIGITALMDE)
Caroline Crampton, writer at Hot Pod, moderated The Rise and Growth of Indie Podcasts panel, joined by Kerri Hoffman (PRX and PRI), Neil Cowling (Fresh Air Production), Renay Richardson (Broccoli Content), Alison Vernon-Smith (Audio Producer), and Imriel Morgan (ShoutOut Network).
As always in RAIN Summits, networking was a key component, with delegates enjoying a light breakfast before the 9:30am start, two networking breaks, full lunch, and a post-event cocktail reception.
---