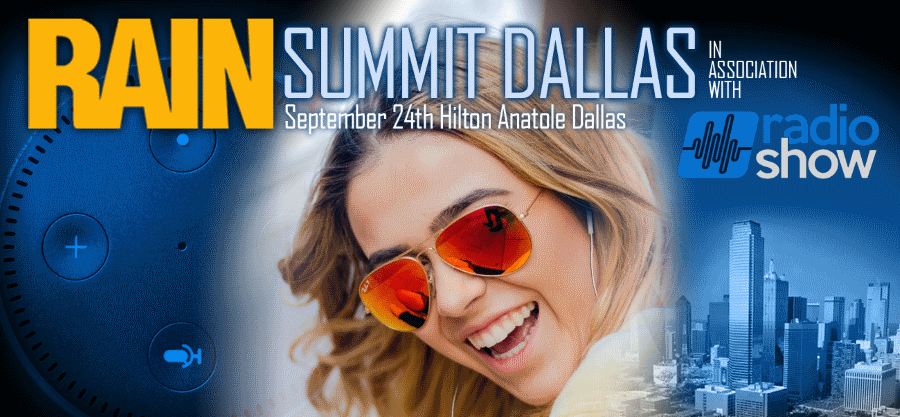 Nearly 200 attendees from 110 companies jammed into the Monet Room of the Hilton Anatole in Dallas for RAIN Summit Dallas, a co-located prelude to the Radio Show. As in previous years, RAIN's event took a deep dive into the most progressive aspects of digital radio, podcasting, programmatic audio advertising, and smart speakers.
RAIN Founder and AccuRadio CEO Kurt Hanson hewed to tradition with his "State of the Union" opening session. As always the presentation was packed with statics and metrics from many sources. Later in the day, Laura Ivey from Edison Research presented "Edison Research's Top Ten Findings of 2019," a countdown of metrics and context around those key numbers. ONe revealing fact: AM/FM listening is still almost exclusively over-the-air — from 2014 to 2019, streaming AM/FM has inched from 5% to 8%.
RAIN Summit Dallas was keynoted by Bill Wilson, CEO of Townsquare Media, who whipped through a slide presentation describing Townsquare's many digital initiatives and re-definition of the company. Following that, Wilson sat down with RAIN President Brad Hill for a keynote conversation which traced Wilson's career (both before and within Townsquare), and dove into the digital fluency he has built throughout the company. One part of that was the reinvention of the DJ job to include daily content creation for station websites — a requisite which Wilson said replaced 10-15% of the network's talent.
Other presentations included:
"The Science of Podcasting: What Data Shows About Podcast Ad Effectiveness, Listeners, and More" (Korri Kolesa, COO and Lex Friedman, CRO from ART19)
"Harnessing the Power of Programmatic Audio: Future Trends and New Formats" (Marsha Fischer, Head of Publisher Development from AdsWizz)
"The Latin Music Market: From Evolution to Revolution" (David Bakula, SVP Nielsen)
Discussion panels included RAIN's annual Radio Digital Leadership Roundtable, which was smoothly moderated by Mike McVay (ex-Cumulus, now running McVay Media Consulting). McVay hosted Carter Brokaw (President, Digital Revenue Strategy, iHeartMedia), Buzz Knight (Executive Vice President Strategy and Innovation, Beasley Media Group) Elizabeth Mozian (SVP, Revenue Operations and Data Strategy, Entercom), and Abe Velez (Director, Business Development & Strategy, ABC Audio).
The Podcast 360 panel brought together thought leaders from the production, technology, network, and advertising sides for a holistic view of on-demand audio. Harry Clark (EVP and CRO of Market Enginuity) moderated; speakers were Stephanie Donovan (SVP Publisher Sales, North America, Triton Digital), Beth Eloshway (Vice President, Publisher Relations, Authentic) Lindsay Graham (Founder, Airship), and Jack Hobbs (President, reVOLVER Podcasts).
In the Smart Speaker Strategy panel, Steve Goldstein (Founder CEO, Amplifi Media) elicited cutting-edge insights from radio, the audio service sector, and a newspaper thanks to the participation of Mike Orren (Chief Product Officer, Dallas Morning News),  Tamar Charney (Managing Editor, NPR One, NPR), Will Mayo (CEO, Spoken Layer), and James Derby (Chief Strategy Officer, Federated Media).
Watch for audio to be posted in coming days.
Next up in the RAIN Summit series? RAIN Summit Canada!