On Tuesday RAIN produced the Online Audio Advertising Summit in New York, a half-day event featuring 22 thought-leading industry executives and expert speakers. A program that ranged from metrics to discussion to immersive experience held a packed audience at the Metropolitan Pavilion in Manhattan.
Previously unreleased-to-the-public numbers from Edison Research started the day, as Research Director Nicole Beniamini disclosed recent listening metrics from Edison's share of Ear study. Among the data nuggets:
38% of Americans listen to online audio per day, on average
That stream listening skews sharply toward younger groups
Americans listen to three hours and 49 minutes to audio each day, from all sources; 52 minutes of that is online audio listening.
Most online listening occurs in the home (63%), with 22% at work and only 8% in the car.
Following the Edison presentation was a panel of lively conversation about podcast advertising, one of two podcast-specific sessions in the program. In Podcast Advertising 360, two show producers (Scott Philbrook of Astonishing Legends and Payne Lindsey of Up and Vanished) met onstage with an agency buyer (Patty Newmark of the Newmark Agency) and the marketing manager of a frequent podcast advertiser (Collin Willardson of Mack Weldon).
AudioBoom's Thomas Mancusi encouraged a wide-ranging, highly opinionated discussion of why podcast advertising works, from the practical ("It works because we see results") to the liberating ("There are no FCC regulations").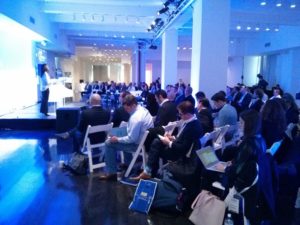 A Broader View of Streaming Audio, the day's second panel, brought together audio services which market to distinct audiences, thereby bringing built-in audience segmentation to advertisers. Participating panelists came from TuneIn (Bill Hartman), Empire Streaming / Live365 (Jon Stephenson), Josh Rahmani (Radio One), and Kurt Hanson (AccuRadio). Kurt Hanson is the founder of RAIN and AccuRadio, and noted that he had never been on a RAiN panel before. Matt Cutair from AudioHQ moderated.
After a break for snacks and informal networking, the program continued with a new RAIN Summit format: a double interview, which you could also call a micro-panel. Steve Goldstein (Amplifi Media) queried Lex Friedman (Midroll Media) and Mark McCrery (Podtrac/Authentic) about measurement of podcast listening. It was a deep dive into the infamous podcast measurement issue, which centers on Apple's grip on podcast distribution with no listening data fed back to podcast owners. "We can assume Apple won't give back data" in the future, McCrery said. the conversation also roamed into related issues; Lex Friedman observed that podcasting is still too hard to listen to, especially in the car.
Data on the streaming side was explored in a blockbuster panel that included Pandora (Doug Sterne), Spotify (Sean Kegelman), iHeartMedia (Brian Kaminsky), Triton Digital (John Rosso), AdsWizz (Alexis van de Wyer), and WideOrbit (Michael Dalfonzo, moderator). A fast-moving discussion moved from the basics of ZAG (Zip Age Gender) registration to programmatic advertising. Michael Dalfonzo asked for case-study examples, and the panelists came through with examples of successful digital audio campaigns — with the client names excluded in most cases. One takeaway from those examples was that the campaign performance improved with sharper targeting through audience data.
When it came to audience data, perhaps the most startling disclosure was from Alexis van de Wyer of AdsWizz. He said that in some cases, a mobile listener's gender could be determined by how they walk with a phone is in their pocket. Audience targeting is not all about website cookies anymore!
RAIN's next Summit event is on April 12, in Chicago's House of Blues.