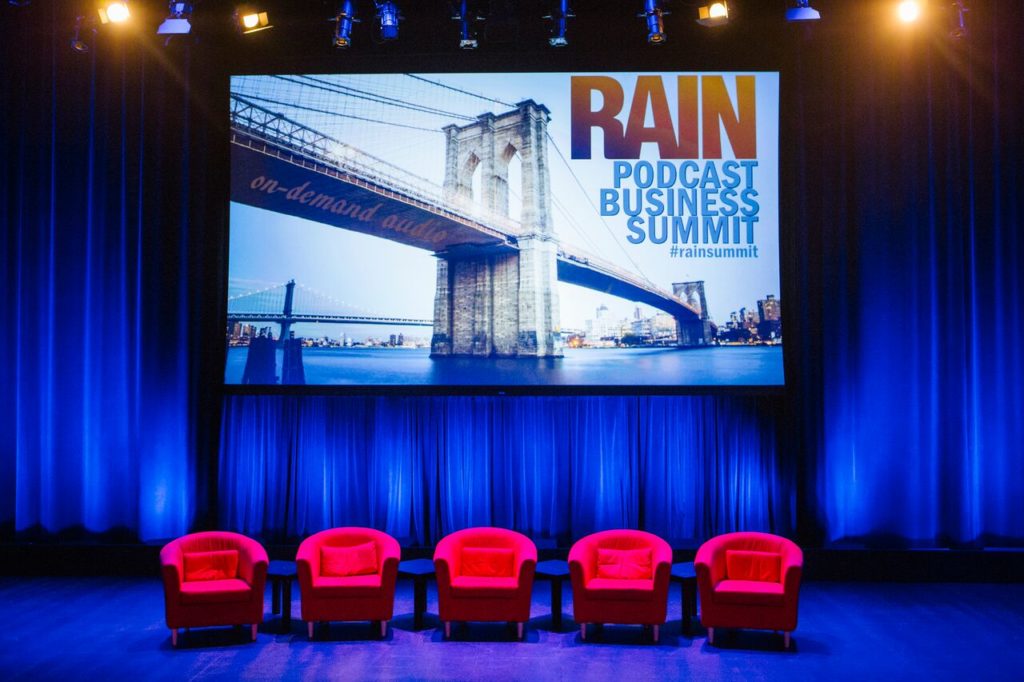 ---
The RAIN Podcast Business Summit, a breakthrough event that uniquely presented the business side of podcasting and its opportunity to advertisers, was a standout success to hundreds of attendees representing New York ad agencies, podcasting networks, advertiser brands, technology companies, and many others.
RAIN's third Summit this year was held yesterday in the gorgeous AXA Auditorium in midtown New York. Jarl Mohn, CEO of National Public Radio, delivered the keynote address to nearly 400 attendees, preceded by an immersive audio/video presentation.
Highlighting the event were several gift giveaways from National Public Media, the national sponsorship sales team of NPR (presenting sponsor of the day) — 35 Echoes, Google Homes, Echo Dots, flic bluetooth devices, Airpods, and Blue headphones were given away in four raffle rounds during the four-hour conference. The elaborate giveaway was unannounced beforehand, and delighted the audience.
Following Mohn, Edison Research presented The Smart Audio Report, a collaborative production of Edison and NPR, which funded the research. That groundbreaking world premiere established voice-activated speakers (e.g. Amazon Echo/Dot and Google Home) as a vitally important audio distribution platform.
Radio/podcast star Elvis Duran joined the event from his downtown studio, in a conversation moderated by Steve Goldstein (Founder/CEO, Amplifi Media) and including Chris Peterson (SVP, podcasting, iHeartRadio).
Panel discussions dove into audience measurement (moderated by Sarah van Mosel, Market Enginuity), models of podcast advertising and sponsorship (Gina Garrubbo, NPM), and program development (Nick Quah, Hot Pod newsletter).