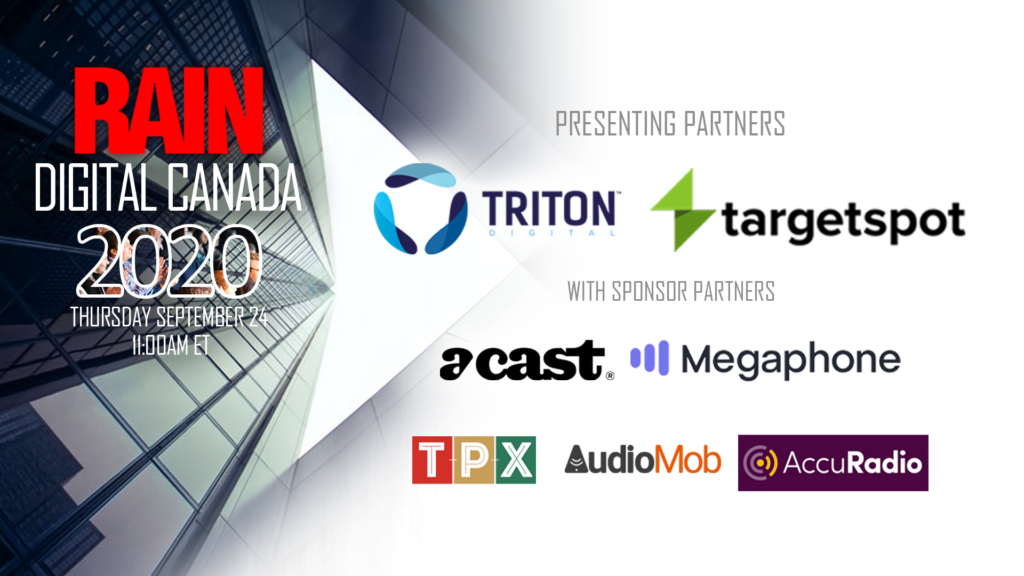 Covid couldn't stop it. RAIN's eminently successful Canadian business conference continued with its third annual presentation, this time with a new name: RAIN Digital Canada.
In a virtual format which attracted over 250 registrants to a four-hour Zoom experience covering the business of digital audio from a Canadian perspective. Twenty speakers across four countries and three continents brought their expertise to the virtual stage.
The online summit started with an executive discussion about the constantly changing landscape of broadcast radio, with participation of four major Canadian networks: Rogers, Bell, Stingray, and Corus. Julie Adam (Rogers), Chris Duncombe (Corus), Rob Farina (Bell), and Steve Jones (Stingray) were moderated by James Cridland in Brisbane, Australia.
How do agencies and advertisers decide where to enter podcasting, a unique category of digital audio, and how could it be easier to do so? That was the thrust of a session featuring Daryl Battaglia (Triton Digital), Sandra Mackechnie (Influicity), and Jeremy Johnston (PHD). 
In a breakthrough session, RAIN presented its inaugural event discussion featuring the online gaming industry, how it is valued, and the opportunity for digital audio advertisers. In collaboration with Audiomob (represented by Ben Williams), the conversation featured panelists Dave Bradley (Steel Media), Kathleen Moroney (Red Apple Creative), and Jack Cooney (Nerd). Online gaming is projected as a $200-billion industry in 2022.
Jesse Haw, director of Canadian sales at Targetspot, presented an information-rich, state-of-industry style overview of digital audio and "multidimensional audio." It focused on several "new normals" in digital audio advertising.
A discussion of new learnings in podcast content and audience, Dan Misener (Pacific Content) presented fascinating research about podcast  listening "neighborhoods." More conversation was had from Steve Pratt (also from Pacific Content) and Heather Gordon, the newly installed Managing Director of Acast Canada.
A lively update session about podcast advertising in Canada featured Bob Kane (TPX), Kayla Landen (No Fixed Address), Brigid Judge (Podsights), and Matt Turck (Megaphone) who moderated.
The event was hosted by RAIN president Brad Hill and RAIN Founder Kurt Hanson. Audio recordings of the sessions will be posted to the RAIN Digital Canada website next week.
.