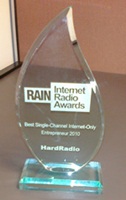 More semifinalists in the Fifth Annual RAIN Internet Radio Awards.  Today we are pleased to announce five semifinalists in the "Overall Digital Strategy" category.
The single winners of all five categories will be revealed and honored at RAIN Summit Indy, September 9, in Indianapolis.
This category is for the broadcast station, broadcast group, or online-only webcaster that has implemented the finest overall digital strategy. Our judges consider mobile, streaming, websites, downloads, video and/or other features. "Online only" services, broadcasters, and streaming broadcast stations are eligible. Services enter themselves for consideration.
Past winners in this category have been CBS Radio (2010), WTOP/Washington (2011), iHeartRadio (2012), and TuneIn (2013).
Congratulations to this year's semfinalists:
Radionomy Group: Includes the branded webcaster platform, the TargetSpot ad network, SHOUTcast, and Winamp. 100 new stations created every day.
SCADDigital – SoLoMoVo: Entertainment Media Solution based in Australia, where the company operates 90 radio stations.
NPR One: "Public radio made personal," in a new app that reflects the new wave of NPR digital strategy.
TuneIn Radio: The leading service for listening to "real radio," with 50-million montly users around the world.
Stitcher Radio: Personalized audio programming on demand. "The future of talk radio."
Clear Channel Media + Entertainment: The largest U.S. radio group, with vertically integrated networks including iHeartRadio, the company's consumer-facing brand.
Thanks to all of our nominees. The RAIN Internet Radio Awards recognize achievements and the best practices of the Internet radio industry.
RAIN Summit Indy is the premiere educational and networking conference for the Internet radio and online audio industry and a partner event of The Radio Show. Darren Davis, president of Clear Channel Networks, will keynote the event.