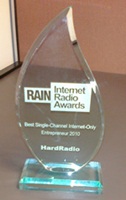 We continue to reveal semifinalists in the Fifth Annual RAIN Internet Radio Awards. Today we are pleased to announce the 10 advancing nominees in the "Best Overall Online Radio Service" category.
The single winners of all five categories will be revealed and honored at RAIN Summit Indy, September 9, in Indianapolis.
This category celebrates the station/webcaster that provides the best overall online listener experience. Our judges consider several aspects, including programming, technology, attractiveness of the site and/or player, ease of use, and other criteria. Nominated services may be single-channel and multichannel "online only" operations or streaming broadcast stations. Last year the final winner was Pandora.
The RAIN Awards use a self-nominating system; all contenders submit their own services and stations.
Congratulations to this year's semfinalists (in random order):
iTunes Radio: Launched nearly one year ago, part of Apple's vigorous digital music ecosystem.
Digitally Imported: Hand-curated electronic music stations.
Uforia: Operated by Univision, Uforia aims to be Hispanic America's digital music experience.
Songza: Creator of the much-imitated "Concierge" style of music curation, and recently acquired by Google.
Slacker: Popular listening platform with hundreds of hand-curated stations.
8tracks: Crowdsourced music curation platform that hosts uploaded playlists, sorted into a unique music discovery environment.
Spotify: Leading global music service providing both on-demand jukeboxing and lean-back online radio.
Pandora: Market-leading Internet radio brand founded on the Music Genome, a unique programming engine.
Radio.com: The digital destination for CBS Radio and it 350-plus stations. Radio.com also features pureplay music streams.
iHeartRadio: The consumer brand of Clear Channel, iHeartRadio is a platform for streaming terrestrial and lean-back pureplay radio.
Thanks to all of our nominees. The RAIN Internet Radio Awards recognize the achievements and the best practices of the Internet radio industry.
RAIN Summit Indy is the premiere educational and networking conference for the Internet radio and online audio industry and a partner event of The Radio Show. Darren Davis, president of Clear Channel Networks, will keynote the event.