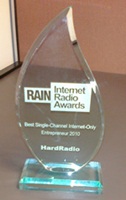 This week we are revealing finalists in the Sixth Annual RAIN Internet Radio Awards. Today we are pleased to announce the advancing finalists in the "Best Streaming Broadcast Station" category.
The single winners of all six categories will be revealed and honored at RAIN Summit Atlanta on September 29, as the gala closing session of the day-long conference.
This category celebrates the single broadcast station that has executed the best streaming strategy. Our judging panel considered ways that the station has extended and enhanced its brand through the use of online streaming.
The RAIN Awards use a self-nominating system; all contenders submit their own services and stations.
Congratulations to this year's finalists (in random order):
WTTS FM: WTTS describes its streaming mission this way: "Provide WTTS to our listeners in the format they want, when and wherever they want it, while extending our sponsors' reach as well."
WEEI FM: A sports broadcasting powerhouse, WEEI streams served 210,000 monthly unique listeners in Q2 (+36% year-over-year) with 1.1-million hours streamed to them.
WLTW HD2: Broadcast home of iHeartRadio Country. The station is part of a broad content package around Country music and hitmakers.
Thanks to all of our nominees. The RAIN Internet Radio Awards recognize the achievements and the best practices of the Internet radio industry.
RAIN Summit Atlanta is the premiere educational and networking conference for the Internet radio and online audio industry and a partner event of The Radio Show. Jake Shapiro, CEO of PRX, will keynote the event. Discussion panels will dive deply into podcasting, simulcasting, mobile, and programmatic. Joins us for the industry's leading knowledge sessions, the networking, the AWARDS, and the best cocktail party in the industry.